Here are my thoughts on Manila girls after I spent two days in this city:
When I stepped out of your airport I had such high expectations. I imagined the lovechild of a tropical paradise and New York City. I was young and naïve, I know.
I imagined your skyline to be stunning and your streets to be invigorating. I imagined your smell like a local market with fresh fruits, grilled chicken and aromatic joss sticks. I thought you were like my home base Bangkok, just a bit less chaotic.
I was really dumb enough to believe the lies that the guidebook made me believe with its breathtaking images of you. I was naïve enough to believe that I would fall in love with you.
You are not less chaotic. You are the definition of chaos. You are loud, you are polluted and you drove me nuts within the first night of knowing you.
I really hate you, but there is one thing about you that I fell in love with.
I fell in love with your women…
The Beautiful Nature of Manila Girls
Hey buddy. By now you should know that this article won't be a hymn of praise for the exceptionally beautiful city that Manila is definitely not. However, the following paragraphs will be a hymn of praise for the exceptionally beautiful women that call this terrible city their home.
And no, I won't put on my rose-colored glasses and tell you that all Manila girls are sweet little angels who you should marry straight away. I won't lie, there are some rotten apples in the basket and I don't shrink back from pulling them out of the basket and showing them to you.
However, there are also plenty of beautiful, genuine, feminine and incredibly lovely Filipinas that you can and hopefully will meet on your next trip to the capital of the Philippines. There is something about those ladies that is hard to put in words.
They are unique in so many ways and today I am going to reveal this uniqueness, show you why dating Manila girls is so rewarding and how and where you can meet and attract plenty of them.
The Charm of the Exotic Mini Latina
The uniqueness of the beautiful Filipinas that live in the smoggy and chaotic capital starts with their unique physical features. The country they live in is in South East Asia, but that doesn't mean that they look particularly Asian.
Some of them have the Asian eyes, but if they would be a bit taller one could assume that they are the descendants of the Spanish or Latin Americans. I guess Miguel Lopez de Legazpi and his men had at least some influence on the gene pool of Manila.
If you would ask me to describe the physical attributes of Filipinas with two words I would reply the following:
Mini Latinas
I don't mean this in a derogatory way. Every Filipina can understand this as a compliment. Their slim bodies, their feminine curves in comparison to other South East Asian girls and their dark skin remind me of the women I have seen in Latin America…just a bit smaller.
They are beautiful in their own way.
Your Manila Girl is a Nurturing Mother
I don't know whether Filipinas or Thai girls deserve the first prize for The Nurturing Girlfriend. All I can say is that family means everything to a Filipina. The downside is that some of those girls expect you to support their family (more on that later) and the upside is that they put your mother in the shade.
Like I said, family is her top priority and as her boyfriend and potential husband you are part of it. That doesn't mean that you have to marry the first girl who treats you like the king of the world. In fact, you shouldn't.
Nevertheless, I can't deny that Filipinas are excellent girlfriends.
You don't have to wonder when a girl who you are dating for two days treats you like a Western girl right after she convinced you to ditch the prenup.
You Mean The World to Her
Your future Filipina girlfriend will be the most nurturing woman you have ever met. Take my word for it.
The importance of family is one reason, but there is another reason that is closely related to the obsession with American culture that is predominant on every single island of this country, especially in the capital.
Filipinas are obsessed with romance.
They consume Hollywood romances like Germans consume sausages. Heck, even their own movies (don't ask me how I survived the 120 minutes) are more melodramatic than any Richard Gere movie with a beach and white horses.
As a result of this cultural conditioning and the local dating situation that I am also going to share with you in just a moment, the women in this country are obsessed with romance.
The ones who live in the chaotic and merciless capital use the ideal image of a romantic relationship as their mental escape from reality. Later we are going to make sure that you are going to fulfill this ideal image.
Why You Need to Date Manila Girls ASAP
Are you already excited to meet dozens of beautiful mini Latinas during your first trip to the capital of the Philippines?
Yes, it really happens that fast and it is absolutely free to join.
But why should you connect with dozens of beautiful Manila girls now when you can still do it tomorrow, or in one week, or in one year?
Well, the clock is ticking…
McDumb Does a Great Job
He turned beautiful, slim and healthy women and men all over the world into unhealthy people with the lowest life expectancy since the invention of penicillin. He robbed thousands of women in the West of their beauty and now he is conquering the Philippines.
Yes, I am talking about Ronald, Diabetes' best friend. He has done a great job in the West but he is currently doing an even more terrific job in the Philippines. In the West fast food is seen as what it is, fast and easy to consume. In the Philippines it is seen as a status symbol. This toxic mindset is the real poison.
I predict that the beauty of the slim, feminine and healthy Filipinas will soon vanish and turn into the same epidemic that causes the most deaths in the USA and other Western countries.  The best advice I can give you is to meet many beautiful Manila girls now. Don't wait until it is too late.
More Global Seducers Are Coming  
Another reason to act fast and to meet thousands of Filipinas who call Manila their home is because the competition won't sleep forever. Since I published my popular article about the women in Cebu that was read by thousands of men, a lot of men woke up.
They sent me emails in which they thanked me for helping them to meet their Filipina girlfriends. As a young or even middle-aged man with a decent appearance and basic seduction skills you still don't have a lot of competition in Manila, but that will change once a certain number of men read this article.
More Global Seducers will be looking for Manila girls. The clock is ticking.
The Dating Firework You Will Experience in Manila
Being a Global Seducer in the Philippines is like being the cookie monster in a cookie factory.
Dating in Manila is the firework that your dick and your heart were waiting for since you lost your virginity. You will have the time of your life. There really is no way around that.
Dating in Manila is easier than in every other country in South East Asia.
And no, I don't say this because I want to label Filipinas as "easy", even though I am one of the few guys who actually respect and cherish women who take the sex that they want and desire.
I say this because the culture of this country ensures that you will succeed at seducing the local women…
The Girls in Manila Love Foreigners More than Their Own Life
I know what you are thinking.
The moment you have read that Filipinas love foreign men more than their own life you thought about all the people on the internet who warned you about getting scammed by money-hungry gold diggers in the Philippines.
I get it. Your money is the only reason why they are attracted to you. This is true because the ten men who were dumb enough to send money to some random Filipinas before they even met them spread their hate across the internet. This is true because the Western women who lost their husbands to beautiful, young and feminine Filipinas said so.
Their love for foreigners has nothing to do with their obsession with the Western (especially American) culture and its people. It has nothing to do with the way their own men treat them. It has nothing to do with the fact that you are exotic to her, just like she is to you.
I hope you understand my sarcasm and I hope you also understand that not every Manila girl you date expects you to pay her "taxi money".
Manila Girls Speak Better English than You
Okay, okay. In case you are British, American or Australian they don't speak better English than you. However, if you are a guy from a country in which English is not the first language, you will be surprised at how good their English skills are.
The first time I traveled to Manila I was 20 years old and I had the same English skills as the average German high school student.  I was young and arrogant enough to assume that the local women would have difficulties to understand me, just like in any other South East Asian country. This turned out to be true, but not because of my exceptional English skills.
Have you dated girls in Thailand and are sick of superficial conversations?
Then travel to the Philippines. You will be able to communicate with every single girl you approach. Their English skills are incredible.
Manila Girls Are Open to Dating Older Men
Okay, if you see a Filipina who is barely 18 walking hand in hand with an 80 year old man who has already had three heart attacks, weights more than an elephant and can't get it up without a dose of Viagra that could easily kill a rhinoceros she is probably doing it for the money.
If you, however, see a decent looking guy in his mid-forties or mid-fifties with a girl who is in her twenties, you shouldn't judge them too soon. Just like it is normal for Alejandra Silva to date Richard Gere who is over 30 years her senior, it is totally normal for the average Filipina to date an older man.
Thanks to the dating propaganda in the West it is okay if Richard does this, but creepy and perverse when you and I do it, especially when the girl we are dating is Asian, let alone a Filipina.
I would suggest that you get over the fact that being older and mature has a totally different status in the Philippines than in the West and start to date the women you really want to date.
The Women in Manila Are Religious
The women in Manila love foreigners, but there are two people they love even more. Those two guys are god and Jesus and thanks to the Spanish colonialism in the 15th century, God and his son play a major role in this country.
To be honest, a lot of the women in the Philippines are more catholic than the pope.
There are in fact a lot of women in Manila who are in their mid-twenties and who are still virgins. That's rare for the West, but very common in the Philippines. However, just because there are some holy virgins who believe that sex before marriage is a sin doesn't mean that all girls are like that.
I also know quite a few self-proclaimed Catholics who drink, gamble and whore around as if someone would give them money for it. It's the same with these girls. Some are catholic virgins and others are catholic as long as their parents are around.
The truth is that even the most religious Filipinas have sexual desires. They can try to suppress them, but one day they'll meet a guy who will set them free. Maybe you are that guy.
Why Manila Girls Are Aggressive Daters
In fact, you will be that guy. There is really no way around it. Do you know why? No, it has nothing to do with their obsession with Jesus. It has everything to do with their dating and mating behavior.
While the beautiful girls you are soon going to meet in Manila look shy and innocent on the outside, some of them are sly old dogs. Filipinas redefine what it means to be aggressive daters. And yes, I know how surprising that sounds.
I mean, how can I say that the cute and tiny girl who looks at you like a submissive puppy is an aggressive dater?
Well, because she looks at you like a submissive puppy.
Being an aggressive dater has nothing to do with making the first move or jumping on you like a wild dog. It can simply mean making mooneyes at you and driving you wild with her female charm.
And that's something that Manila girls are incredibly good at.
Just have a look at how they "sexually harass" these two fellas:
They want to date you and they do everything in their power to convince you that you want the same.
EXPOSED: This is the Filipina dating site with especially (sexually) aggressive girls!
Filipinos Are Not the Perfect Gentlemen
What I am about to say is not an insult to Filipinos. It is just something that all Filipinas that I have ever interacted with told me. According to my Pinay companions, Filipino men don't treat their women like they should treat them.
In case you are a Filipino you can of course correct me in the comments below, but I heard a lot of nasty stories about how the local guys treat their women in such a disrespectful and rude way that it explains why Filipinas are such aggressive daters when they see an attractive foreigner.
Once they spot a gentleman like you, they transform into hawks that are ready to slay their prey.
Finding a Guy on the Same Level is Nearly Impossible
Another reason why the girls in Manila will hunt you is because they can't find a good guy in Manila. The Filipinas I shared stories and my bed with and the beautiful Filipina who wrote this article affirmed me that.
But why can't they find a good guy when there are more men than women in the capital of the Philippines?
It's all about the education.
The Philippines, just like many other developing countries, has undergone some interesting educational changes within the last decades and men are obviously the losers of these changes. I don't want to go into detail about whether or not this is good or bad. It is how it is, but it definitely is a huge dating advantage for you.
Manila is the home of thousands of educated women who can't find a man with the same education level.
Who to Avoid When You Are Looking for Manila Girls 
By now you know that Manila girls love foreigners and that they will do everything to motivate you to talk to them. I hope you agree with me that this is very good news. Unfortunately, I also have some bad news for you.
Not everything in life is unicorns and rainbows and not every person you meet in Manila is honest and genuine. There are some black sheep in the capital of the Philippines and it is a pleasure to disclose them.
The Dudes Who Try to Sell Their Cousins
I deliberately said that not every person you meet in Manila is honest and genuine. Yes, there are also men who will try to scam you. I met tons of them during my first trip to Manila. I met the first one when I got out of the taxi in front of my hotel.
He first asked me if he could help me with anything. My first naïve thought was "what a nice guy". My second more realistic thought was "that looks like a scam". He tried to establish a conversation, he joked around and he smiled like the happiest person on earth.
He acted really weird and I soon found out why. After he tried to connect with me for a couple of minutes (he did a really good job), he told me about his cousin who needed money. He even showed me a picture of his so-called cousin.
Don't fall for those amateur pimps.
Their cousins are probably some poor girls who won't see anything of your money. You don't really want to get involved with shit like that.
The Manila Girls with the Seven Sick Family Members
Do you remember my rant about the men who are dumb enough to send money to girls they haven't even met yet and then write "all Filipinas are scammers" all over the internet?
Please don't become one of them.
Yes, depending on how long you are going to stay in Manila, you will inevitably come across one or two girls who want your money and your dignity, but they aren't a real threat as long as you don't switch off your brain.
While I know that there will be times when your blood leaves your brain and wanders down to your genitals, you are better off not ignoring your common sense.
Does it make sense to send money to a girl who you haven't met in person? Hell no!
Does it make sense to believe a girl when she tells you about her seven sick sisters who all need medicine that apparently costs a fortune? Hell no!
Use your brain and you don't have to fear the scammers that others are so terrified of.
Underage Manila Girls
Speaking of blood that leaves your brain and wanders down to your genitals…
There is in fact one scam that can get you into big trouble and it's called the underage girl scam. The underage girl scam is what happens when a drunk and horny tourist meets a really young-looking Freelancer or bar girl whose neighbor works as a police officer. Let's just say it's an easy way to make money and a nasty way to make you paranoid:
The good news is that YOU don't have to worry about that scam at all. You are a Global Seducer who connects with girls in malls and parks and not a sleazy sex tourist who hunts prostitutes in dubious bars and street corners.
Who to Focus on When You Are Looking for Manila Girls 
Are you aware of the pimps? Do you have enough blood in your brain to avoid the scammers? Are you a real seducer who doesn't have to worry about the underage girl scam?
Awesome!
Then it's time to have a closer look at all the beautiful girls you should focus on during the time you spend in the capital city of the Philippines. Let the other guys send their hard-earned money to girls that only exist on profile pictures.
You are flying to Manila because you want to have the time of your life and if you focus on the following types of girls, you will in fact have the time of your life.
The Girls Who Can Survive Without Your Money
As Global Seducers we want to experience unforgettable adventures with beautiful girls who are interested in us and not in our wallets. I can't stress that enough. That's why you should focus on the girls who can survive without your money.
I don't say that you should only date girls who are richer than you. Just as it is okay for a manager in any Western country to sleep with his secretary, it is okay for you to sleep with a girl who earns less than you. However, that doesn't mean that you should throw your money at her.
I never pay the whole bill on any first date, no matter if I am in Germany or in the Philippines.
I don't do this because I am too greedy to spend one dollar for a bowl of instant noodles. You should do the same. This will increase your chances to attract the right Manila girl.
Seduce girls who can survive without your money and who don't expect you to pay anything for them and you will experience passionate relationships that are based on a genuine connection and true feelings.
The Ultra Christian Girls With Closed Legs
I founded the Global Seducer community to inspire you to seduce women all over the globe and to help you to achieve YOUR goals in regards to women, sex and dating. I didn't found this community to impose my way of living on you.
It's about your goals and if your goal is to find a good woman who you can marry, then more power to you. The chance that you are going to find her in Manila is quite high.
As I already mentioned before, there are the girls who just pretend to be holier than the pope and the ones who are actually saving themselves for marriage. If that's the kind of woman you are looking for, you will find her here.
The Thousands of Manila Girls on Filipino Cupid  
But don't worry, in case you are not looking for a virgin to marry you can still find the perfect girl on the site I just shared with you. Besides the few girls that I approached in malls, parks and clubs (more on that later), I met dozens of beautiful Manila girls on Filipino Cupid.
I don't want to hide the truth. Some of the girls want your money and others are virgins who are looking for a man to marry.
However, most of them are genuine girls who are open towards a passionate relationship with you.
When you use common sense and genuinely try to connect with the women behind the beautiful profile pictures you will find dozens and dozens of beautiful Filipinas who all want to go on dates with you once you arrive in Manila.
Let me show you how…
Where and How to Meet Manila Girls Online
Filipino Cupid is hands-down THE BEST online dating site to meet women in Manila.
The last time I logged into my Filipino Cupid account I saw that more than 1000 women who live in Manila were online. I think it's not overly optimistic to say that you will find the perfect girl on this site.
It is impossible not to…
There are a couple of features that make Filipino Cupid unique and that made me come to the conclusion that it is the best site for you if you are serious about finding a girl in Manila:
Filipino Cupid has more than 3 million members and way more than 2 million of these members are women (Many girls are from Manila, because it's the capital city).
About 95% of the girls that I contacted actually replied. Whenever a fake profile pops up, the Filipino Cupid staff does their best to remove it.
The girls in Manila are interested in finding a man like you. They are actively looking for a partner.
You can send interests and messages to thousands of beautiful Filipinas AND you can even invite them to a live chat.
Now you know why I used Filipina Cupid to turn my time in Manila into an unforgettable adventure.
Let's have a look at what exactly you have to do to find the woman of your dreams on this site (it only takes 5-10 minutes):
Step 1: Sign Up on Filipino Cupid (It's Free)
You want to meet and date incredibly beautiful women in Manila, right?
Then get your ass off pornhub and go straight to the Filipino Cupid homepage to sign up for your free account. Yes, it's free to sign up and to look at thousands of sexy profile pictures of women who can't wait to meet you.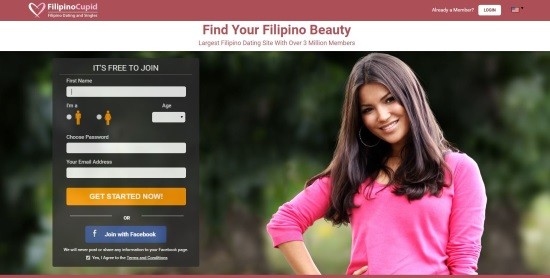 Click here to find out if Filipino Cupid is really the right site for you
All you need to do is to remember your name (I hope you do), type in your gender (look down in case you forgot it) and get started.
It really is that simple.
Step 2: Upload Your Profile Picture
Once you have signed up for free, you are asked to upload a profile picture. You don't have to pay hundreds of dollars for a professional photographer. A picture with a nice smile is enough. Just make sure that you don't look like a drunken sailor.
I actually uploaded a picture that I made with a phone that was produced in an era where Nokia was still the leading mobile phone company. As you can see, this picture was enough to get a decent amount of interests and messages.
Step 3: Make Your Profile Stand Out
The best way to line up as many dates as possible with beautiful Filipinas before you even book your flight is to make as many women on Filipino Cupid think "this is the man of my dreams".
I know, I know. It's completely logical. One thing that doesn't seem to be logical, at least when you look at the profiles of many foreign guys is that a good profile increases your chances to attract women.
If you only write "man looks for woman" in your profile you don't have to wonder when your competitor gets the date with the swimsuit model. Be a bit creative and invest a couple of minutes to write down your interests, hobbies and especially what you are looking for in a partner.
I don't ask you to write a novel. A few honest words about yourself are enough. Just take a look at my profile. It's only 66% complete (I'm a lazy bastard, I know), but these 66% were enough to get tons of messages and interests: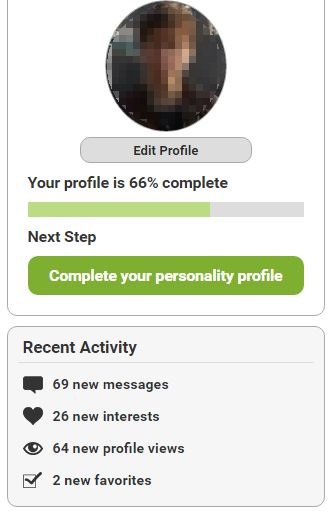 Step 4: Set Up Your First Dates
Now comes the fun part.
Now it's time to stop looking at the pictures of hundreds of sexy Manila girls and to take the next logical step. It's time to upgrade your account and to contact all the beautiful girls that you want to meet.
You won't believe how many of the girls will reply with friendly messages until you see it with your own eyes.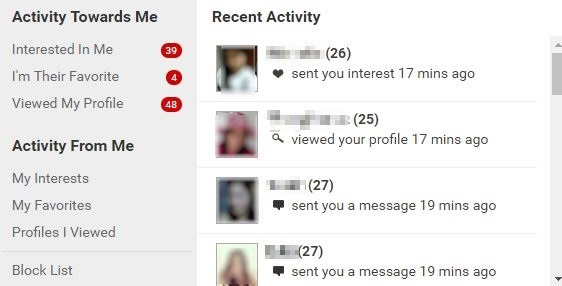 I can't stress enough that online dating in the Philippines is not the same as online dating back home.
I guarantee you that you are going to get many, many replies from many, many beautiful women who want to meet you. I know that you will have an amazing time in Manila and with a bit of luck you might even find the love of your life.
You will never know unless you take the first step…
Where to Meet Sexy Manila Girls in the Daytime
Now you know that Filipino Cupid is by far the best and easiest way to connect with beautiful Filipinas. However, just like in finance, the man who has the best diversification strategy is the man with the highest rewards.
Just because signing up on Filipino Cupid and chatting with all the sexy inhabitants of Manila is the best thing you can possibly do, doesn't mean that it is the only thing you can do.
Don't put all your eggs in one basket. Diversify.
There is something that is called the real world and believe it or not, you can meet a lot of beautiful women there. Let's have a look at how you can meet and date beautiful Filipinas during the daytime, before we are going to hit the best clubs in Manila.
The Big Malls for Shop Assistants and Shopaholics
In a recent article I wrote about Thai girls I stated that Bangkok is a day game paradise.
I can't say the same about Manila.
If you focus on approaching women on the street you won't be able to make one single approach without getting approached by some creepy dude who wants to sell you the smartphone he just stole from you and without getting hit by a crazy taxi driver who thinks that screaming at you is the best way to win you as a customer.
Manila is crazy, loud and hectic. As an advanced day gamer you can run after girls while sidestepping pimps, salesmen and potholes that have the size of a T-Rex foot. As a guy who is relatively new to the game you might want to avoid breaking your legs by choosing other day game spots.
One way to avoid this terror is by focusing on the malls. I highly suggest you check out Robinsons Mall and the Mall of Asia. There are tons of beautiful shop assistants and shopaholics who you can approach.
Rizal Park Manila for the Introverted Bookworm
One of the best places to meet beautiful Filipinas in Manila is the Rizal Park. It's situated near the Manila Bay and it's more than just a famous attraction. It's an awesome place to meet beautiful women who are relaxing in the park, reading a romance novel and dream about meeting their foreign prince aka you.
The smog, the noise and the sleazy guys who either want to sell you stolen phones or stolen girls are far away. You can run after girls without falling into T-Rex footprints and you can have a conversation without getting distracted by honking cars.
University of Manila for the Students of Manila 
Can you remember one of the two main reasons why the girls in Manila are such aggressive daters?
Yep, the education gap between men and women. And while this is discouraging for the local guys, it should be encouraging for you.
Not only because you are exactly what those girls are looking for, but also because the university is a great place to meet those girls. When I visited the University of Manila (of course only for educational reasons) I was amazed at the sheer number of beautiful girls.
Maybe the university is the place where you are going to meet your next girlfriend.
Makati for the Independent Business Women
Makati is to Manila what the Wall Street is to New York. It's the financial center of the Philippines and as you can already imagine it is one of the richest areas that you can find in the metropolitan area of Manila.
In case you are interested in meeting financially independent and extremely overworked/sexually frustrated business women, Makati is the place you should go to. And don't worry. Independent business women in the Philippines are not the same as independent business women in the West.
The business women you are going to meet in Makati are still incredibly feminine.
When I visited Makati I was amazed by the beauty and the receptiveness of some of those women. You could really see that the more educated and financially successful they were, the harder it was for them to find a man.
It is your job to put an end to their loneliness.
Where to Meet Sexy Manila Girls at Night
Have you written "visiting Makati" on your to-do list?
Good, because it's also good to be there when the sun goes down. Some of the best nightlife venues are located in Makati and some of the worst are located in the shady are that I stayed in during my first trip to this chaotic city.
I didn't stay in this area because I wanted to. I just didn't know it any better. And because I want to make sure that you are going to have a better nightlife experience than I had, I am now going to tell you where to go to and which places you should better avoid.
Manila Bay Cafe for the Freelancers
My fist nightlife experience in Manila was in the Bay Café (formerly LA Café). When I stepped into the bar I was amazed by all the amount of girls. There were about five girls for every man. You don't need to be a math professor to figure out that there was a catch.
After I talked to one of the girls for less than 60 seconds I knew what the catch was. Her suggestion to come back to my place for a few thousand Pesos explained everything. I don't know if all of the girls that visit that place are Freelancers, but most of them are.
Are you looking for young party girls? You can find hundreds of them on THIS dating site 
Revel Club for the High Society Girls
You will, however, have a lot of fun in the Revel Club. This luxurious nightclub is located in Uptown Bonifacio in Metro Manila. You can click here for more information about this prestigious club.
To be honest, I am more of a minimalistic guy who enjoys down-to-earth venues, but if you are into luxurious experiences AND if you want to meet sexy high society girls, you will love this club.
Just make sure that you bring enough money. I still haven't forgiven my friend who told me that "the drinks are not that expensive" when he invited me to the Revel Club. Damn you Stephen!
Royal Club in Makati for the College Girls
Let's get back to Makati. Let's get back to the lovely college girls that live in Metro Manila. The universities are great to meet them, but you might get into trouble with the guards who won't be particularly amused that you hit on the "innocent" girls on campus.
Why don't you avoid getting harassed by a guard who thinks that you are a harasser and meet those girls when they are in bad girl party mode and not in good girl learning mode?
The Royal Club in Makati is the best place to meet them. The club is big, the girls are beautiful (have a look at some of the pictures) and according to one of the upper-class college girls I met, it is one of the most favorite spots of upper-class college girls.
Palace Pool Club for the Naughty Manila Girls 
What I am going to share with you now is the best nightlife venue in Manila and maybe even the best venue in the world. It's the lovechild of a swimming pool and a club and it is packed with half-naked girls who want to have fun.
Does that sound too good to be true? Then visit the Palace Pool Club. As I said, I am usually not so much into luxury, but that place blew my mind. The club is big, the pool is even bigger and in a Catholic country like the Philippines you can assume that the girls who walk around in sexy bikinis are not the most innocent.
Here is the proof that this heaven on earth actually exists:
How to Attract and Date Manila Girls
Now that you know why you have to come to Manila and where you will meet the most beautiful Filipinas online and offline, it's time to bombard you with some handy dating tips that guarantee your success in the chaotic capital city.
All I want is that you leave Manila with some unforgettable memories.
Feel free to regard the following lines as a few closing words that have the purpose to make sure that you and the wonderful Pinay beauties that you are going to seduce will have a god time.
Don't Fulfill the Sex Tourist Stereotype
You can be overweight and still seduce a lot of beautiful Filipinas. You can be bald and still have the time of your life in Manila. But what you can't be is a scruffy man with an "I Love Angeles City" shirt and a beer belly that is the home to the leftovers that didn't make it in your mouth.
Have some style, have some manners and don't walk around as if you would be the best customer in Manila's red light district.
In other words: don't fulfill the sex tourist stereotype.
I don't say that you have to look like Adonis and that you can't have a belly. All I want to say is that you might not have the results you want to have if you walk around like the type of foreigner that the girls you want to date hate the most.
A Genuine Compliment is Enough
What's the best way to approach Manila girls?
Be nice, be genuine and give her an honest compliment. It is really that simple. You don't need to play any stupid games and you shouldn't be overly direct.
Remember, it's a traditional Asian country and being too straightforward might freak her out. She is already nervous when she is talking to you. Don't make her even more nervous by telling her that she has a delicious booty.
"You are really cute" works best…at least in my experience.
Don't Promise What You Can't Keep
At the beginning of this article when I talked about the beautiful nature of Manila girls, I mentioned that they are very relationship-oriented and that they will do everything for her boyfriend.
You don't have to be a genius to realize that you could easily exploit this. Please don't.
Don't be another foreigner who promises her the world. Don't be so sleazy and promise her to marry her because you want to get her into bed. Don't be her worst memory. You don't really want to be that guy. Connect with her, be with her, but don't make any promises you can't keep.
Be the Gentleman She Never Had But Always Wanted
Just because you shouldn't make any promises that you can't keep doesn't mean that you can't sweep her off her feet. In fact, being the gentleman she never had but always wanted is the easiest and the most honest way to get what you want.
And the best thing about this approach is that you are not the only one who gets what he wants. She also gets what she wants. She doesn't get a bad-mannered sex tourist and she doesn't get an abusive local boyfriend. She gets an honest seducer who cares about the women he seduces. She gets you.
And no matter if you stay with her for one night or for a lifetime, you make sure that you are her best memory. Now enjoy your time in Manila.
Summed Up Wisdom
Manila girls combine the charm of an exotic mini Latina with the attitude of a nurturing mother. They are amazing girlfriends who value their boyfriends. But you have to act fast. Fast food and hordes of Global Seducers might soon change the landscape of Manila.
Most of the beautiful Filipinas you are going to meet in the capital speak perfect English, are totally into foreigners and are not as religious in the bedroom as they are around their parents. They might even chase you quite aggressively because they think you are the kind of guy who is hard to find.
Use your common sense to avoid the scams from both Filipinos and Filipinas and you won't make any bad experiences. You will definitely find a girl who is just perfect for you on Filipino Cupid. As long as you don't look like the typical sex tourist and as long you are the honest gentleman she always dreamed of, she won't be able to resist you, not matter if you meet your Manila girl online, at the mall or at the club.
Summary
Article Name
Description
The city is chaotic, but the Manila girls you are going to meet are beautiful. Chaos is everywhere, but dating beautiful Filipinas in the capital is a joy.
Author
Publisher Name
Publisher Logo