Have you ever had romantic experiences with cute Cebu girls?
If not, you haven't experienced what it really means to live…
Just like Matthew did…

About two months ago I ended my three months long trip through South East Asia. It was an excessive time and even though I spent most of my time in Thailand I also had the pleasure to visit the Philippines.
I would lie when I would say that I fell in love with this country the moment I stepped out of the airport.
My first destination was Manila. In case you have ever been there you probably know that there is only one word that describes this city:
Horror!
I hated everything about it. The pollution and the annoying sales men who tried to sell you your own phone that after they stole it from you were not the worst.
What was even worse was that every girl I approached either thought I would want to buy her or they were so desperate that they wanted to marry me after a few seconds.
I felt a strong need to escape from this horrible place. That's why I decided to book a flight to Cebu city. I had never been there and I didn't know if it would be worse than Manila. The moment I landed on the beautiful island with the name Cebu was the moment when I fell in love with the Philippines.
I did not only fall in love with the island and the capital city, I also fell in love with the women.
Cebuanas, how some people call them, are by far the most beautiful women in this country.
How can I say this if I have only been to Manila?
I haven't. I have spent one month traveling all over the country and I have been to over ten different cities. From all the places I have been to the women in Cebu were the most beautiful.
Do you want to know what it takes to seduce the most wonderful women that this country has to offer?
Then have a look at what I going to share with you now. The following lines are your ultimate guide to unlimited pleasure at the men's paradise called Cebu.
The Three Types of Cebu Girls You Will Meet
I already said that the girls are incredibly beautiful. I mean, if you are not into Asian women and not into South American women you won't be attracted to them. In case you are one of those guys you should shoot me a message because I haven't met any guy yet who was turned off by smoking hot Filipinas.
These ladies are perfect mixtures of original Pinay genes and the remnants of the Spanish colonial era.
They are like mini Latinas with Asian eyes.
I just love it. If you are already slobbering right now because you think about undressing those cute little things, you should type "last minute flight to Cebu" into Google.
But before you do that you should know everything about the women that you will meet there. Knowing everything about Cebuanas allows you to prepare for a few weeks of incredible sexual debauchery.
Let's have a look at the good, the bad and the ugly types of girls that you will meet during your trip.
Okay, let's first have a look at the really good ones:
Educated and Independent Woman
In case you want to travel to the Philippines because you are fed up with the career focused, unfriendly and manly women in your home country, the first type of girl I want to talk about might scare you away.
My favorite group of Cebu girls that you can possibly end up dating are the educated and independent business women.
In case you want to close this article now and call me names because you assume that I have an evil plan to send you from smoke to smother, I ask you to bear with me for a second. When I say that the educated and independent women in this country are perfect for your seduction plans, I also mean it.
I would never in a million years compare hard-working Filipinas who have several college degrees with the career women in the West. That would be as ridiculous as if you would say that Asian girls and black girls have the same asses.
You can't compare career-oriented women in the West with career-oriented Pinays. All the educated and independent Pinays that I have dated were extremely caring, did everything to please me and behaved like the archetype of femininity.
Good luck finding that in the West.
Curious College Girl
Another group that is more interested in gaining sexual experiences with a foreigner than taking you to the cleaners is the group of curious college girls. Those girls don't want your money, they want your dick.
Why don't they want your money?
When a girl goes to college in the Philippines, especially to the prestigious ones, you can confidently assume that she doesn't belong to the underclass.
It is no secret that families with money have a higher chance to send their children to university. You find this inequality all over the world, but it is even more present in the Philippines.
A family without money would never be able to send their children to college. They wouldn't even send their son, let alone their daughter.
Those girls have enough money and don't have any need to replace daddy's wallet with hubby's wallet. They want something else from you.
Why do they want your dick?
Excitement, sexual adventures and the curiosity of something new are good reasons why college girls will happily jump in bed with you.
It is the same as if you would ask a white woman why she wants to have sex with a black guy. We human beings tend to desire what we never had before or what we think we can't have.
Those college chicks know that a Western guy has a high status in their country and can basically choose the women he wants to be with. The moment one of those girls angles you, she will feel like the queen of vagina land.
The Cebu Bar Girl or Freelancer 
I promised you to talk about the good, the bad and the ugly. The type of girls that I am going to talk about now combines all three qualities.
They are good because they are extremely easy to have sex with, even if you don't pay them. They are bad because by seducing them you risk being robbed and if you are really intoxicated with love you will be used as a walking ATM. They are ugly because you don't even want to know what kind of animals and monsters they breed in their vaginas.
In case you really want to bang such a girl you should always wear a condom and maybe even a knight's armor.
The girls I am talking about are the professional dick suckers. You can call them prostitutes, semi-professionals, freelancers or simply poor girls who try to get by. No matter how you call them, it is quite dangerous to bang them and if I were you I would think twice before I do it.
From what I have heard from a guy who banged half of the Asian continent, Filipinas are even less aware of wearing condoms than Thai girls. In case you love raw dogging and you don't care if your dick burns from time to time you can definitely go for it.
Just one last warning: In Thailand the government tries to make sure that nobody under 18 sells their body. In the Philippines the government only SAYS that they take care of this problem. At least half the hookers I have seen on Mango Avenue looked like children. I think the last thing that guys like you and I want is to lose our anal virginity in a Filipino prison.
Where to Meet Cebu Girls Online
Now you know which girls you should definitely seduce, which girls might even pay for your dinner before you seduce them and which girls you should only approach with an armor.
The question that you probably ask yourself now is:
"Where can I meet all these girls?"
Well, the best time to meet Cebu girls is before you set your foot in the country. You should already arrange a few dates before you book the flight. And the easiest way to get in contact with gorgeous Pinays is by signing up on an online dating site.
In my experience, the best Cebu dating site is Filipino Cupid and there are three very good reasons for that.
Reason #1: This online dating site has more than 3 million active members and most of them are women. The most beautiful of these women live in Cebu. I am serious.
Reason #2: The girls are actively looking for a partner. It's not like in the West. They didn't sign up for the attention. They signed up because they want to meet a man like you.
Reason #3: The vast majority of the girls you are going to write are real and will reply. You are in demand and the Filipino Cupid staff is known for making sure that only real profiles survive on the site.
More women than men, these women are real and looking for a man like you and it is so damn easy to get started…
Just have a look at how Laurence found his Cebu girlfriend..

Step 1: Join Filipino Cupid for Free
Do you want to look at thousands of sexy profile pictures in order to find the girls you are really attracted to?
You can do that right now and you don't have to pay a dime for it.
You just need an email address with which you sign up. It's dead simple.
Click here to find out if Filipino Cupid is the right dating site for you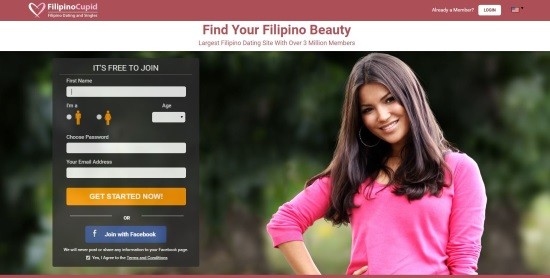 Step 2: Upload Your Beautiful Face
Once you have signed up for free, you are asked to upload a profile picture. While it is always an advantage to have a professional picture, it's definitely not necessary.
When I signed up on Filipino Cupid I actually used a profile picture that was too old and too pixelated to attract women. I still managed to get dozens of messages and interests.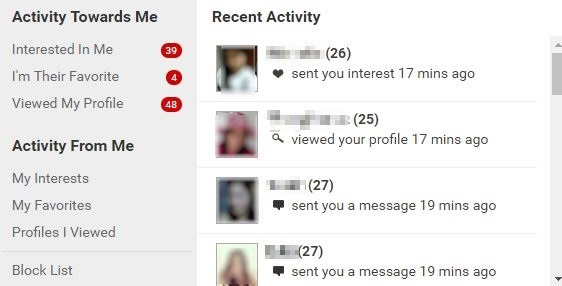 Step 3: Regard Your Profile as Your CV
What do you do when you apply to a job?
I am pretty sure that you send a CV with your application and I am also quite confident that you spent more than two minutes on creating it. You do that because you know that an employer won't hire you when he doesn't know who you are.
It's the same with your online dating profile. You don't have to write a CV, but you should let all the beautiful girls who are waiting for you know who you are. Be honest and share who you are looking for.
Step 4: Get Message, After Message, After Message…
Have you signed up? Good!
Have you uploaded a profile picture? Great!
Have you filled out your profile and looked at many sexy pictures? Awesome!
Then you are ready to upgrade your account to enjoy the privilege to send messages to thousands of beautiful women who are waiting for you in Cebu.
What if you don't want to upgrade your account because you rather want to spend your money on Pokémon Go?
Well, in this case I doubt that you are a heterosexual man and I highly recommend that you check your testosterone level…
How to Meet Cebu Girls With Online Dating 3.0
I'll be honest with you. Thanks to online dating finding a girlfriend in Cebu is easy.
All you have to do in order to get at least a few inbox messages is to set up your profile, upload a nice picture and say that you plan a trip to their home country in the next couple of days. However, the girls you will attract with this method are most of the time scammers, poor village girls and ugly chicks that you wouldn't even date back home.
Are those the girls you want to end up with?
Come on, you spend several hundred bucks on the flight. You should strive for more than an average girl with a difficult family background. What you want are the high quality Cebu girls with bodies to die for.
How do you get them? In the same way as you can only become successful in business by being better than your competition you can only become successful with Cebu girls by being better than your competitors.
Get a paid account, upload a few professional photos, complete your profile, tell them where and for how long you will stay in Cebu and write about how much you love their country.
Your goal is to not appear as a typical sex tourist.
What you want is to be seen as a gentleman, a lover and a great man. As soon as those women will see the Global Seducer in you that you truly are, they will first reward you with messages and later with blowjobs.
Filter the Scammers
I know from my own experience how amazing it feels to have hundreds of messages in your inbox from sexy Filipinas, but I also know that not all that glitters is gold. Even though the island of Cebu belongs to the richest parts of the Philippines, there are still a lot of women who try to seek financial benefits from foreigners who are stupid enough to fall for them.
Please don't be one of those idiots who fall for the scammers. Stay away from the women who work in the girlie bars in Cebu.
I honestly have no compassion with guys who lose hundreds of dollars because of women they never met and who then write about how terrible Filipinas are.
Filipinas and especially Cebu girls are amazing women and if you are stupid enough to fall for the 5% of girls who try to rip you off, it is your own fault. If you believe when a girl tells you that she needs money for her five sick children, three blind grandmothers and ten suffering buffalos you belong in a psychiatric therapy and not in the vagina of a sexy Pinay.
Play the Numbers Game
What you should do now is to pick one girl you really like and write to her. Ignore all the other girls and focus all your energy on her. You have to show her how special she is and that she is your one and only.
If that's what you do you shoot yourself in the foot.
In my experience ALL profiles of women on those dating sites look the same. They always look for the love of their life and a man who will love them the way they are. That's a great goal to have and Hollywood would be proud of them, but that doesn't change the fact that they are also open to casual sex with foreigners.
If you are really looking for the love of your life you can of course concentrate on one or two girls and get to know them but if you are also open to having multiple girlfriends and group sex experiences with two sexy cousins (what a memory!), you should play the numbers game.
Write one standard message that can be used for every single girl on the planet but that shows at the same time that you put in some effort in writing it. Send this message to every girl you are attracted to and wait for the magic to happen.
Eventually, you will find the most beautiful girl in Cebu.
How to Find a Girl in Cebu 
I hope you already have a few dates lined up before you travel to the most amazing city that the Philippines have to offer. Nevertheless, I can't let you get away with sitting in front of your laptop all day. As a man who is looking for a girlfriend in Cebu, you should leave your apartment at least once a week.
Your job is to move your ass out of your hotel room in order to experience the same sexual adventures that I have experienced. Maybe you have the time of your life and bang more girls in two weeks than I had sex with in my whole life (then you have my respect).
In order to get this amount of pussy, online dating alone is not enough.
Jesus, you traveled to one of the most amazing cities that horny single guys can go to and want to waste all your time writing messages online?
Explore the city, observe the locals and what's most important…talk to the girls.
Network in the IT Park
If you want to meet the educated and independent women who for sure won't tell you that they need money for their ten sick buffaloes, you should take a taxi to the IT Park. In case you want to find out more about this business park you can click here.  However, I have to warn you. You won't see any naked girls on the official site of the IT Park.
The best time to go there is either in the early morning in order to approach the girls who are going to work, during lunch break or in the late afternoon when they are on their way back home. The best you can do is to approach one of those cute office ladies on the evening and take her first to a cocktail bar before you invite her back to your apartment.
The best thing is that you have no competition from other foreigners. They are all hunting for the low class girls because they think that they are easier. What a huge mistake.
Career-orientated women have always problems to find men. In a country in which the majority of men are completely uneducated this phenomenon is even more problematic. You can assume that those girls haven't had sex within months and sometimes even years. You will be their Messiah.
Flirt at the Mall  
No matter if you go to Ayala Mall or to Robinsons Mall, at both places you will find women who are more than willing to flirt with you. The only women you have to be careful about are the scammers who earn their clothes by turning the heads of naive men. Just say "no" whenever a girl asks you to buy her a jeans and you will be fine.
Other than that, you can approach local girls who are shopping, you can approach girls who are working in the shops and you can even approach tourists if you want to have some variety. 
I really love to approach Cebu girls in shopping centers. They are in a good mood, they usually have a lot of free time and like in the rest of the Philippines, they all speak perfect English. Give her a compliment, drink a coffee with her and drink her pussy juice once you are back at your place.
Sex at Mango Square
Are you ready for the nightlife in Cebu?
The city has one area in which you will find 90% of the nightlife. In case you want to party all night and dance with sexy ladies in miniskirts until you have to hide your boner, you should go to MangoSquare.
You will find a lot of bars and clubs with amazingly beautiful women there. Unfortunately, you will also find quite a few freelancers but don't worry too much about them. They are pretty easy to spot. They are the only girls who stand glued to the spot desperately looking for customers.
Once you have found a girl who is obviously there with her friends to have fun it is time to offer her an option that would involve even more fun.
Clubgame in Cebu doesn't differ from club game back home.
As soon as you see a girl you want to end up in bed with you just have to approach her in an honest way, ask her friends if it is okay that you kidnap her for a second and slowly escalate while dancing with her. The only difference to club game back home is that your success rate is probably a bit higher.
The Truth about Dating Cebu Girls
Are you ready to discover how to find a girl in Cebu and how to date her? 
Great, but before you register your online profile and buy a nice shirt for your tri
them? ps to Mango Avenue I want to talk about a few things in regards to seducing and dating those girls.
There a few truths about dating Cebu girls that a lot of people don't know about, or tend to forget once they arrive in the country. Some prejudices about those women are deep-rooted and for some men it is very hard to overcome them.
That's why I thought it's a good idea to debunk two of the most common stereotypes about dating Cebu girls.
You Are Not So Unique
The only reason why those girls want to have sex with you is because you are white!
Well, yes and no. I don't deny that it is a huge advantage to be a Caucasian guy when you want to have a life like a sex guru during your stay in the Philippines. Being a white guy is an advantage in every Asian country.
In fact, being a foreigner is a big dating advantage in every country, no matter if you are black, white or Asian. You always have a higher chance to get laid when you are unique and when having sex with you promises to be an exciting adventure.
However, when it comes to dating cute Pinays in the regional center of the Central Visayas region you can't really say that you are unique. Don't think that you won't have any competition on this island. Especially the capital Cebu city is full of foreigners.
This city is one of the most popular cities for expats in the Philippines.
You are probably not the first foreigner that a girl has seen. You might not even be the first foreigner she has been in bed with. If you are looking for a girl in Cebu who has no idea how a white guy looks like, you will have a hard time.
Believing that every woman in this city will hop on your dick just because you are white can lead to a bitter disappointment. Being white is an advantage but without the necessary seduction skills you will stay one of many foreigners who desperately try to hit on her.
Are the Filipinas You're Dating in Cebu Gold Diggers? 
The only reason why those girls want to have sex with you is because you have money!
I think I already debunked this myth but it doesn't hurt to make it clear again. Yes, there are some girls who want to scam foreigners for money. However, those girls are by far not the majority and if you switch on your brain for only one second you will be able to recognize them and to bust them.
Most of the Cebu girls that I met were educated, had a job and had enough income to get by.
The famous complaint that all Filipinas are gold diggers is nothing but a desperate attempt of sexually frustrated middle-aged women to label all men who are interested in dating Pinays as creepy sex tourists.
Why do they do that? Because they are scared that you will leave and ignore them and end up dating girls who are better looking, better in bed and better girlfriends.
What should you do? You should start to not give a shit about what other people think of you and do what makes you happy.
How to Seduce Cebu Girls
You know which girls you will meet, you know how and where to meet them online and offline and you know the truth about dating Cebu girls. There is just one piece of the puzzle that is still missing. Once you followed all the previous steps and arranged a few dates with women that you want to have naked in your bed…
…how do you close the deal?
One of my readers actually decided to marry the girl he met thanks to my recommendation…

There are some things that you have to consider when you are seducing women from this part of the Philippines. Of course you need the right beliefs and the skills to seduce women in order to successfully approach and seduce Pinays.
Every man who thinks he can just travel to the Philippines and get laid within seconds, even though he has never had any seduction success back home, wastes his money by booking a flight to Cebu.
If you can't approach women back home you also won't approach Cebu girls and if you can't seduce women back home you won't seduce Pinays.
It is really that simple.
However, if you have the right beliefs, the knowledge and the skills to seduce women and if you therefore have what it takes to be a Global Seducer, you will have the time of your life in Cebu. All you have to do is to consider a few dating specifics.
Break Through the Shyness
Have you ever had a date where the girl seemed to have glue between her lips? In case you have ever experienced a date during which the woman you were dating said less than a Buddhist monk during a meditation session, you probably interpreted it as a negative sign. Guess what? You were probably right.
However, things are a little bit different in the Central Visayas region. Even though Cebu girls are used to foreign tourists and expats, most of them are not used to dating them. As a result it can happen that the girl you end up dating is extremely shy at the beginning. I have been on dates with women who just smiled and giggled without saying a word.
Don't make the mistake and think that she isn't interested just because she isn't talking.
You are the man, you are the leader and therefore you can also lead the damn conversation. The more time she spends with you the more comfortable will she become. Before you know it you are talking about sexual fantasies and about what you are going to do with her when you go back to your place.
I Love You Forever
Another thing that you should definitely know before you start to conquer the hearts and vaginas of all those beautiful Filipinas is that they have an extremely romantic imagination. I mean, American girls are sometime too much for me with all there "I love you forever" bullshit that they have been fed with from Hollywood since they were little girls, but Cebu girls definitely top that.
You might think that the only girls who tell you that they will love you forever are the ones who desperately need your money. Well, this is not true. I had a relationship with a woman who worked as a team leader in a multinational company and even she told me that she is in love with me after we had sex for the first time.
I don't know if it is related to the fact that a lot of Filipino guys treat their women very bad, which is the case if I can believe what a lot of my Pinay lovers told me, or if it is the American influence that brings along this Hollywood cliché. As soon as one of those girls meets you, a foreigner who satisfies her in bed and treats her good, she will tell you that she loves you. Just don't take it that seriously and don't talk about starting a family after you've banged her the first time.
Sex Within Minutes
In case you are self-confident, have no approach anxiety and you know how to seduce women, you have absolutely nothing to worry about. I already said that you need at least basic seduction skills to seduce Cebu girls, but I am also convinced that once you have those skills, you will end up in bed with beautiful women.
The prospect of sleeping with a foreigner for the first time, the fact that there are a lot of girls who are open to casual sex, especially because their catholic religion forbids it, and all the other factors I talked about are all signs that you will get laid.
In case you follow the blueprint for meeting, dating and seducing Cebu girls that I just shared with you, you will be able to have sex within a couple of minutes after you have met a girl.
Meet beautiful Cebu girls and share your experiences with me in the comments below.
Summed Up Wisdom
Before you pack your bags and travel to the Philippines in order to seduce beautiful women, you should know what kind of women you will meet there. You will either meet educated and independent women, curious college girls or professional or semi-professional hookers.
The easiest way to meet women in Cebu city is through online dating. Put in some effort, don't fall for the scammers and play the numbers game. This is a guaranteed was to hundreds of inbox messages. In case you want to meet those girls in real life you can either concentrate on daygame in malls or by going to the IT Park. If you are more interested in nightgame you should definitely check out Mango Avenue.
The truth is that there are a lot of foreigners in Cebu and that the girls are used to them. You won't get laid just because you are white. You also won't lose all your money just because you date a Filipina. Not all of those girls are gold diggers. When it comes to seducing Cebu girls you just have to break through her shyness and ignore her Hollywood blah blah. If you do that, you have the chance to get laid within minutes after approaching one of those beauties.
Summary
Article Name
The Cebu Girls Dating Blueprint
Description
Have you ever had cute little Cebu girls in your bed? If not, you haven't experienced what it really means to live.
Author
Publisher Name
Publisher Logo