In this day and age knowing how to talk to girls online is absolutely crucial for every man who wants to become successful with women and of course for every man who hates the sunlight.
Even though I personally believe that approaching women in real life should still be your number one priority on your journey towards becoming a successful seducer, I can't deny the fact that getting to know women online becomes more and more important.
A few years ago people who decided to date online were looked at as if they would belong in the madhouse.
Nowadays online dating is seen as completely normal, or at least it should be:
Today the few remaining men and women who don't spend a big part of their leisure time on countless online dating sites or apps, such as Tinder, are looked at as if they would still live in the stone age.
The more popular online dating has become, the more important it has become for men to know how to talk to girls online.
Why is it so important to know what to say and how to say it when you talk to women via the internet?
If we are really honest, women are the winners of this development. All a woman has to do in order to successfully date in the virtual world is to put a few stupid lines on her profile and to upload a hot profile picture. Once that is done she simply has to wait until the first guys take the bait
For us men it is a bit more complicated to transform the registration on an online dating site into a sexual adventure.
How to Talk to Girls Online: Understand the Principles
I am sorry that I have to say this but if you do nothing besides uploading a handsome profile picture before you wait until you get the first message of a sexy girl, you won't get laid. We men have to work hard and especially smart in order to succeed with women in the virtual world.
Before you can go out and start to scan profile pictures of women that hopefully look the same in reality, you have to understand a few key principles of getting in contact with women on a dating site.
In some aspects getting to know women on the internet is comparable with approaching women on the street. However, there is one thing that you should become aware of when you contact girls via chat or e-mail.
Nothing is as it seems and I want you to stay safe: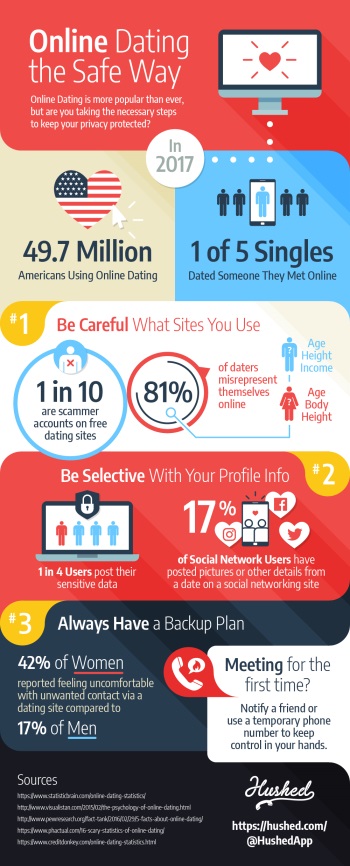 Online Game is Visual
Learning how to talk to girls online shows you the superficiality of our society. When it comes to dating in the real world your looks only have a minor impact. Your confidence, your body language, your behavior, your style and your words are way more important.
Even though a lot of men use their perceived average look as an excuse to take action, I can guarantee you that you consider your looks as way more important than they really are. Your looks only determine about 10% of the decision of a woman to jump in bed with you, at least when you approach them in the real world.
How does that look in the online world?
Well, the internet is superficial. I would say that in the virtual world your looks determine a bit over 50% of your seduction success. That's why it is so important to do everything you can do to get more handsome and to get noticed by girls.
Why do your looks have such a major impact in the online dating world?
Because all the important things like body language, tonality, smile, touch and eye contact don't exist in the virtual world.
In the World Wide Web you only have your profile picture and your written words. Before you think about how to talk to girls online you should make sure that your profile picture shows you at your best. Take a few professional photos and make sure that her vagina already wants you before you write her for the first time.
Profiles are Lying
In case you have read a few of my other articles you should know that I am not one of those guys who say that all women are evil little liars. However, even though I love women I can't doubt the fact that they transform into little liars when you give them internet access.
As soon as women switch from dating in the real world to online dating, they start to lie about everything. Seriously, if you meet a girl in real life after you talked to her on a dating site, you shouldn't be surprised when she suddenly weights ten kilo more than on her profile picture. Maybe you are really lucky and her boobs got smaller and you see wrinkles that haven't been on her profile picture.
You'll wonder if somebody cast a spell on her. You are right. That's the work of a brilliant magician and I also know his name. His name is Photoshop and he can make women more beautiful than any cosmetic surgeon in Hollywood. Be aware of his work and remember that he can't use his magic on women in real life.
The bad news is that the lying doesn't end with the pictures.
If you look at a few dating profiles of women you will realize that they all search for a nice, reliable and compassionate man who loves them until the end of times.
What a surprise.
Unless you search for women on sex dating websites, you will read this Hollywood fairytale gibberish on every single profile. Do yourself a favor and don't even look at it. Of course no woman will write in her profile on a normal and reputable dating website that she is searching for a strong man who is dominant enough to fuck her into the ground.
Even if she wants exactly that, she will plaster her profile with empty platitudes. Skip that shit and go straight to the messaging.
Quick note: Just becasue you can ignore her profile doesn't mean that you should ignore yours. My colleague Radio Wright gives some great tips that can help you to write and design an amazing online dating profile. You can check it out here. I thought it might interest you.
It's a Competitive Market
Speaking of messaging…
The average girl gets more messages online in one day than you get on Facebook in one year. If you want to learn how to talk to women online you have to accept the painful truth that she has to fight her way through dozens of messages before she sees yours.
If you really think about it this flood of messages is pretty logical. I am not lying to you when I say that you are in the top 1% of all guys on this planet, once you become fearless and learn how to seduce women. There are not many men who have the balls to walk up to a woman and to give her a compliment.
In real life your competition is extremely low.
The only problem that you have to face in the online world is that the same guy who is too scared to talk to a woman on the street has no problem with messaging a random girl on a dating site.
He doesn't have to talk to her from face to face, he doesn't have to show his confidence and she can't reject him in front of other people.
In a dating chat nobody else will see what she answers, he can think for hours about what he wants to write and if she rejects him, nobody will ever know. It sounds mean but online dating is the perfect playground for guys who fail in real life.
As a guy who wants to use online dating as a useful side project you have to compete with millions of losers who are too scared to approach women in the real world.
However, they don't approach the type of women you think they approach.
Average Women are in Demand
No matter if you want to learn how to talk to girls online or in real life, one thing that most guys simply can't believe is true for both ways of meeting women.
Average women are in demand, whereas the really hot ones don't get approached.
A guy who is too shy to approach a girl on the street might be confident enough to write to a girl on a dating site but do you think he is also confident enough to write to a girl who looks like a mixture of Miranda Kerr and Jennifer Lawrence?
Nope!
For a lot of guys writing to an average-looking girl is already a challenge. Only a few guys are willing to risk a virtual rejection from a model. In addition to that, a lot of guys don't think that they would ever have a chance with such a girl. Thanks to this inferiority complex they don't even try their luck.
As a result of this, the average girls receive tons of e-mails, whereas the really beautiful women only receive a few messages per week. Those messages are from guys who are also confident enough to approach women in real life. Congratulations, you are in the top 1% again.
How to Talk to Women Online: The Girlfriend Approach  
When it comes to contacting girls on dating websites there are two ways of doing it. Depending on what you want you have to approach women differently and you have to lay the focus on different aspects of your game.
Please correct me if I am wrong but there are probably two things that you are looking for when you are interested in learning how to talk to girls online.
Instead of looking for a pen friend, you are either looking for a girlfriend or for a fuck buddy.
Before we have a look at how you have to talk to women online in order to get a fuck buddy, we have a look at what it takes to get a girlfriend.
Focus on a Few Women
Even though the typical dating profile of a woman consists of 80% lies and 20% truth, you have to take a look at it if you are searching for a girlfriend. Do whatever it takes to find her true statements and have a look at different profile pictures.
Don't just write to any girl if you are searching for a girlfriend.
Look at her interests and hope that she is not lying. Also take a look at different profile pictures and choose the ones that are sexy AND that appear to be the most realistic. Avoid the ones where Mr. Photoshop obviously had his hands in.
Focus on a few women that you want to write to and design really personalized messages that communicate clearly why you choose to contact them instead of all the other girls on the website. This makes them feel special and it significantly increases the rate of answers that you will get.
Connected Through Your Internet Connection
Let's say you wrote to ten girls that you can imagine a relationship with and three of them wrote back, because they were flattered by the fact that you choose them for their interests and their personality.
The biggest mistake that you can make is to ask them directly for a date. You slipped into the role of the future boyfriend and in order to be seen as boyfriend material you have to show her that you have the qualities that she is looking for in a man.
You have to connect with her through e-mails or chatting before you meet her in person.
It is the same as if you would approach a girl on the street. You also don't ask a girl for her number right after you gave her a direct compliment. At least I hope that you don't do that.
Instead of ending the conversation after a few seconds while taking your phone out, you connect with her by talking about her life, her interests and her passion before she agrees to meet you. If you really want a girlfriend you not only have to do this in real life, but also in the online dating world.
Who Do You Feel Connected to?
After you have exchanged a couple of mails you will not only see if the girls you are talking to regard you as boyfriend material but also if you regard them as girlfriend material. Women might lie in their profile but I can guarantee you that they open up as soon as they have the feeling that they are talking to a guy who might become their boyfriend.
Depending on how good you connected with her through your exchange of e-mails, you'll be able to sift out the ones who you don't really want to have as girlfriends.
Now you just have to write back to the one girl with whom you connected the most and set up a date with her.
She is already attracted to you and she is also convinced that you are perfect boyfriend material. It is nearly impossible to fuck up this date.
How to Talk to a Girl Online: The Fuck Buddy Approach
What if a girlfriend is the last thing you want in life? How to talk to girls online if you just want to end up fucking a girl instead of dating her?
Well, then you should do the complete opposite of what you would do when you want to search for a girlfriend.
You have to understand that using online dating for two completely different purposes requires two completely different approaches.
Finding a girl who has the same values and interest as you is extremely important, but as soon as you start to look for a fuck buddy, there are other things that become way more important – such as the size of her breasts and her attitude toward casual sex.
Play the Numbers Game
Forget about going through countless profiles in order to find the perfect girl. Forget about looking at every single interest and personality characteristic in order to see if the girl fits you. When it comes to finding a fuck buddy there is only one thing you have to ask yourself:
"Would I fuck her?"
If you answer this question with "yes" you know that you have to contact her.
READY: You wouldn't believe how many replies I got on these dating sites (Yes, I share the screenshots with you)
Take your time and look at as many profiles as possible and see if they live near you. You can even go so far and open an excel sheet to write down all the girls and arrange them according to their location.
I don't care if you find 50 girls that you want to bang or if you find 500. The only thing that is important is that you send a message to every single one of those girls. If you want to learn how to talk to girls online because your goal is to get a fuck buddy, you should play the numbers game and contact as many hot girls as possible.
The Minimax Principle
Unless you want to be busy for a whole week you shouldn't focus on connecting with her on a deep emotional level. Of course every woman wants to feel a genuine connection with you, even if she just has sex with you. The good news is that a few compliments and one or two interesting texts are enough to connect on a very basic level.
If you are learning how to talk to a girl online, because you are looking for a fuck buddy, you don't need to talk for hours about your passions, your dreams and hopes. Instead of connecting with her emotionally you have to connect with her sexually.
Besides a handsome profile picture you need to show her in your mails that you are confident with your sexuality and that you are attracted to her.
It's absolutely okay to tell her in your first mail that you find her attractive and that you would love to get to know her. In the second mail you ask her a little bit about herself and in the third mail you ask her if she wants to meet.
That's it. No beating around the bush.
Please don't make the mistake and waste hours writing individualized messages. Just send one standard message to every girl. When you play the numbers game you should make use of the minimax principle and invest the least amount of effort to achieve the most.
Sift Them Out
I can guarantee you that you will get quite a few responses if you write to 100 girls.
Don't just ask one girl to meet you, ask all of them. Let's say you wrote to 100 girls and from those 100 girls only 5 are willing to meet you, even though you didn't invest a lot of effort into connecting with them and even if you asked them in the third mail if they want to meet you.
You really don't have to do more when you want to get laid through online dating.
You played the numbers game and the result are five girls who know that you are sexually attracted to them and who want to meet you even though you didn't give them the impression that you want to be their boyfriend.
The chance that those girls are down to fuck is extremely high.
All you have to do now is to go on dates with them, to have sex with them and to decide which one of the girls you will make your fuck buddy.
It's all possible for a man who rose like a Phoenix from the ashes.
Summed Up Wisdom
How to talk to girls online and hook up with them? First of all, you have to understand the principles of online dating. Even though your looks are not as important when you approach a woman in real life, the quality of your profile picture becomes very important when you date in the virtual world.
You also have to realize that women lie when it comes to their profile pictures. Most of them also lie about the stuff they write in their profiles. Even though women get a lot of messages, average women usually get more attention than model types.
When the desire to have a girlfriend is the reason why you want to learn how to talk to girls online, you should focus on a few women and invest some time in connecting with them. Then you can choose the one who has the most potential to become your girlfriend.
In case you rather want to have a fuck buddy instead of a girlfriend, you can play the numbers game instead of focusing too much on an emotional connection. Write to as many girls as possible and meet them after three messages. All you have to do now is to decide which one of the girls should become your fuck buddy.
Summary
Article Name
How to Talk to Girls Online
Description
In this day and age knowing how to talk to girls online is crucial for every man who wants to become successful with women and who hates the sunlight.
Author
Publisher Name
Publisher Logo