Are you ready to become a happy and fulfilled man?
Are you ready to meet Thai girls online today?
I know that you are. How do I know? Well, because not so long ago I have been in the same situation that you are in right now.
You either want to travel to Thailand for a short time and figure out what it's like to meet and date all the beautiful local girls, or you are desperately searching for a loyal and loving girlfriend, that special someone.
Maybe you have read my detailed guide on Thai girls and you can't wait to meet girls that are that amazing. Maybe you have read in one of my articles that I have a beautiful, intelligent and supportive girlfriend who was born and raised in the Land of Smiles and you want to experience the same fulfilment that I experience every day.
And no, I am not saying this to brag.
I am saying this to motivate you to take action and to do date the women you truly want.
I know too well how frustrating the attempt to survive the dating game in the West can be. Radical feminists who try to convince you that everything you do is harassment and girls that are so manly that you don't even want to go on dates anymore.
You don't have to deal with any of that when you decide to meet Thai girls. It's different over there. Nothing is as it is in the West. Meeting intelligent and educated women who are at the same time breathtakingly beautiful and feminine is not impossible. It's normal, especially when you give online dating in Thailand a shot.
Why Meeting Thai Girls Online is So Easy
Is online dating in Thailand easy?
Yes, it is. That's the short answer.
And no, I am not saying this because every girl will jump in bed with you right after the first "hi". Let's be realistic. You have to work on your profile and connect with her the right way before she'll be ready to meet you (more on that later). I am sure the last thing you want is to end up with a girl who says "yes" to everyone.
That's not what I mean when I say that meeting Thai girls online is so easy. Maybe easy is the wrong word.
Let's say that it is comfortable and convenient.  
While meeting and dating women who you have met online can be quite a hassle back home, it's pretty straightforward in Thailand. I would describe it as online dating in the Western world without the bullshit, the flakiness and the ridiculous games.
That sounds good, right? I know that it does and you are probably asking yourself why in God's name meeting Thai women online is so different than chatting and texting with the women in your home town.
Here are the obvious reasons…
There is No Online Dating Stigma in Thailand
What happens when you tell someone that you met your partner online? You usually get one of the following answers:
"Oh, you met her online. Mhh…okay."
"Did you meet her on Tinder? Man, don't make her your girlfriend! She is probably all over the place."
Yep, that's exactly what happens. Online dating has this bitter aftertaste. Even though most people nowadays meet through one of the countless dating apps and online dating services, it is still seen as kind of weird and for people who don't have much luck in the real world.
When it comes to online dating in Thailand, things are a bit different. There is no stigma. It's not seen as something that only weirdos do.
It's totally normal. It's socially accepted.
Hell, it's even more socially accepted than meeting women anywhere else. Everyone does it.
That's why some of the most popular online dating sites in Thailand have millions of women you can choose from.
Girls Are Working Long Hours
Thai people are not particularly famous for their productivity. I love the country, the culture and the people, but I won't lie. The majority of people in this country are much more interested in having fun (sanuk, sanuk) than in working their asses off.
I don't say that this is a bad attitude towards life. That's just how it is. However, just because they are not really productive while they are working doesn't mean that they don't work long hours. They work extremely long hours.
A lot of girls who work in the tourist and service industry work up to 12 hours a day. These are the girls who speak decent English and who would do anything to meet a guy like you. Unfortunately, they don't have the time to go out to meet men.
That's why they sign up on an online dating site to chat with you while they are on their commute to work, while they are at work and while they are on their way back home. That's the only way they can meet you and set up a date with you.
Writing English is Easier than Speaking English
Some of the Thai girls you'll meet online speak perfect English. My girlfriend is one of them. The majority of the women you are soon going to meet speak English at a level that allows a basic communication and that makes it possible to get to know them.
But I don't want to lie to you. Some of the girls you are going to meet don't speak English at all. While it is definitely more difficult to connect with her when she doesn't speak the same language, it is not impossible.
Ignoring those girls could lead to you ignoring a message of a woman who might be girlfriend or even wife material. Thanks to online dating it is still easy to connect with these girls.
She might not be able to speak decent English, but with the help of translator tools she can write you the sweetest messages.
Thai Girls Are Shy in Public but Open Online
In case you have ever approached a Thai girl in public, you know how shy they can be. I think this is kind of cute. However, you have to know how to deal with it. I still think that Bangkok is one of the most amazing cities to meet beautiful women in the day time, but I can't deny that initiating a conversation online is a lot easier.
Her translator tool might be one reason, but definitely not the main reason. The main reason why it is so freaking easy to meet Thai girls online is because of their willingness to ignore their culturally indoctrinated shyness as soon as they are in the virtual world.
Speaking up is not the biggest strength of South East Asian women. And don't get me wrong. I love the calm, relaxed and slightly submissive (I mean this as a compliment) attitude of Thai women. You just have to be a bit more patient when you meet them.
But not when you meet them online.
The virtual world gives those shy and reserved girls the chance to speak their heart and to open up. Most of them take this chance.
I hope you understand why meeting Thai girls online is so easy and so worthwhile.
Where to Meet Thai Girls Online Right Now
What if I told you that you can meet over one million Thai women online in this exact moment?
I am dead serious.
There are millions of independent, intelligent, beautiful and feminine Thai women who are waiting for a guy like you. And no, they neither want your money, nor are they ladyboys.
They are normal girls who want to meet a normal man like you.  
But where do you find those girls?
I asked myself the same question a couple of years ago. That's why I went out to test every possible Thai dating site in this universe. I tested everything and ONLY ONE of the sites I tested survived my high demands.
Thai Cupid
It's the only site that fulfilled the following criteria that were so important to me and that are probably also important for you:
Millions of active members
Not many bargirls who want to make a quick buck
The site has more women than men, which means that the girls are chasing you
The girls are actively looking for a partner and not just window shopping
Real profiles of beautiful women
Educated and independent women who want a partner and not a provider
The only site that fulfilled all these criteria was Thai Cupid.
All the other famous and infamous sites that I tested, many of them free, were overrun by scammers, ladyboys and all kinds of other creatures that you don't want to take back to your country.
Thai Cupid offers you a huge variety of wonderful Thai women who are eager to meet you rather sooner than later. The Thai Cupid staff does an exceptional job when it comes to deleting fake profiles. I honestly haven't stumbled upon one fake profile.
I would say that 99% of the Thai girls you meet online on Thai Cupid are real and most of them are not what your mother told you…
I Had the Same Doubts That You Have Right Now
I know your doubts. I had them too. When I had my first interaction with a Thai girl online I was sure that some hairy Indian dude with money issues was hiding behind the beautiful profile picture. Then I met her in real life and boom…
…she looked even more beautiful than on her pictures.
The first date with her was only one of many amazing dates. You can't believe how glad I was that I didn't listen to my fears, worries and doubts. And I had a lot of them.
I mean, everything I had ever heard about Thai girls was this:
"Thai women are gold diggers who are only after your money!"
"These women are way too beautiful to be real. You'll get scammed!"
"Everyone knows that all Thai girls are prostitutes!"
Thanks radical feminists and Western mainstream media for giving me such a hard time.
If I had listened to all the naysayers I wouldn't be in the wonderful relationship that I am in right now and I obviously wouldn't write this article for you.
Do yourself a favor and stop allowing people who don't want you to be happy to dictate what you have to believe.
Meet Thai girls online and you'll soon find out that everything you have been told about dating in the Land of Smiles is nothing but one big lie.
How I Met My Girlfriend on Thai Cupid
Are you still in doubt that signing up on Thai Cupid and spending your evening chatting with dozens of gorgeous women is the right thing for you?
Well, I know that it is not that easy to do something you have never done before, especially when you constantly think of all the negative stereotypes you heard about Thai girls. But I want you to be happy. I want you to find an amazing Thai girl online and who knows…maybe you are going to find your future wife.
Maybe I can encourage you to take the necessary first step when I share my own story with you. The story of how I met my girlfriend on Thai Cupid…
My whole life I have been a shy and introverted guy who couldn't talk to women. As you can read on my about page I eventually made some drastic changes that taught me how to become the man I really wanted to be and how to attract and seduce women.
The Global Seducer was born.
I traveled all over the world and one of my destinations was Thailand. It was my third trip to the country when I stumbled upon a profile on Thai Cupid that was different than the others. I don't know what it was, but her innocent, nerdy and extremely friendly attitude made me want to meet her.
On our first date I was one hour late and ignored every cultural dating rule that you can possibly ignore. But she liked me and I liked her. We went on another date and another date and the more time I spent with her, the more I fell for her.
When she eventually told me that she was in love with me, she was not the only one who had to fight the tears.
Sometimes I lie next to my beautiful girlfriend, caress her soft skin, and ask myself how my life would look like if I had never created a profile on Thai Cupid and if I had never met her. Honestly, I don't even want to think about it.
And this guy, who is one of my amazing readers, also doesn't want to think about it:

Here's How Easy it is to Meet Thai Girls Online
Are you already sick and tired of me saying that meeting Thai girls online is so damn easy? No? Good, because now I am going show you exactly how easy it is to meet the woman of your dreams on the one dating site that I can recommend with all my heart.
Don't worry. I won't provide you with a detailed review of Thai Cupid. There will be another article for that. For now, all I want to do is to show you how to get started in a few quick and easy steps. It's so easy that even your grandmother could do it…if she'd be into Thai girls.
Step 1:
Go to the Thai Cupid homepage and sign up for a free account
But FIRST: Find out if joining Thai Cupid is worth it!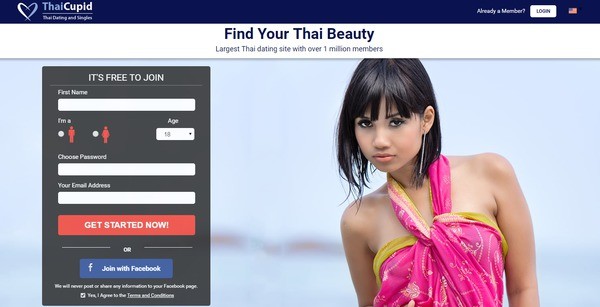 All you have to do is to put in your email address and choose a password and you can immediately start to search for your dream Thai girl online.
Step 2:
Take a couple of minutes and fill out your profile. You don't have to fill out every little detailed about yourself when you are just getting started. If you, however, plan to contact a couple of girls and if you want to increase your chances to get them on a real date, I highly recommend a detailed profile.
Why do I recommend that? Well, these girls are already desperately waiting to meet a foreigner like you, but there are also other guys who want to do the same. The easiest way to make your competitors look like boring potatoes is by filling out your profile.
Yep, it's that easy. Most guys are so freaking lazy.
If you look at most male profiles on Thai Cupid you'll find some generic bullshit, such as "lonely man who is looking for his special someone".
You won't be the king of the hill when your profile looks like 99% of the other profiles. Heck, invest a couple of minutes and write something about yourself. Anything. Write about who you are, what you love to do, what you are looking for in a partner.
Be honest. Be authentic. Fill out that goddamn profile.
Step 3:
Add a picture. Not just any picture. Add one that doesn't include the following things:
You being drunk
You partying
You being cut out of a picture with your ex-girlfriend
Upload a picture in which you smile. If you want to go the extra mile you can make one where you hold a puppy. Girls love guys with puppies. I don't really know why, but they do.
Bangkok has enough street dogs. You'll find a puppy to take a picture with 😉
Step 4:
I just wanted to say that now's the time to start looking at all the profile pictures of young and beautiful Thai girls in order to decide which one of them you want to contact. But you probably don't even have to do that.
Remember how I said that Thai girls tend to be shy in public but quite straightforward in the virtual world? Just have a look at the last ten minutes on my own Thai Cupid profile: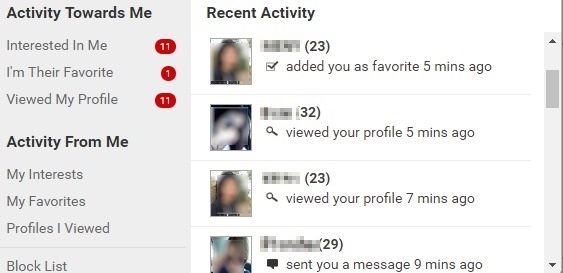 11 girls liked my profile and one of them decided to call me her favorite. Damn, that happened while I was writing Step 1-3. Not bad for doing nothing. You'll probably experience the same.
But hey, even if you want to contact some more girls, it's pretty obvious how you are going to find them:

You can't really miss the big "Search" button at the top of the menu.
I told you that it is easy-peasy. That's how you meet Thai girls online and yes, you can meet them right now.
Or wait a second. You probably want to know how to date Thai girls online without risking rejection…
How to Date Thai Girls Online Without Risking Rejection
You've probably tried online dating back home and, please correct me if I am wrong, you've probably been rejected over and over again. The rejection might not have been an "in your face" rejection. Maybe it was more subtle.
One word answers, such as the famous "thanks". Not answering at all. We've all experienced that. I can't even remember how many women I had to contact on that stupid German online dating site that I once tested until I finally got a reply.
In the West the girls are in demand. They get hundreds of messages every day and they reply to less than 1%.
In Thailand YOU are in demand.
Read that again if you have a hard time believing it.
You are in demand.
There are way more girls than men on Thai Cupid. Those beautiful young women chase you.
Upgrading your account in order to send messages to thousands of Thai girls who are online RIGHT NOW is a no-brainer. That's how I met my wonderful girlfriend.
Still, not every message leads to a date that leads to…you know what.
The good news (if what I've just told you are not already enough good news) is that the following tips make it impossible for you to not find the Thai girl of your dreams online.
Battle the Lies about Thai Girls You've Been Told
Did I already mention that a lot of men falsely believe all the lies that have been spread about the beautiful women in Thailand? Yeah, I think I did.
And while I truly hope that you don't believe for one second that all Thai girls are evil gold digging prostitutes, I want to say it again:
Don't believe the lies that you have been told!
Think about the agenda behind the so-called "truth" that the mainstream media and the feminist inquisition try to ram in your handsome head before you call me a conspiracy theorist.
The mainstream media aka the government wants you to pay your taxes, pay for your mortgage, pay for the horrendous student fees of your 2.5 kids. Oh, and they also want you to pay for your divorce lawyer that you will eventually need when you marry the woman they want you to marry.
They don't want you to be happy with a beautiful young woman in a tropical paradise.
Radical feminists don't want it either. The last thing they want is that even more men dump them for feminine exotic beauties.
Always think about the agenda and don't believe anything before you haven't experienced the truth for yourself.
Don't Be Shocked When She Initiates the Conversation
I told you that you'll probably get a message or two before you can even look at the first profile. I know, it can be surprising, but it shouldn't. Please don't make the mistake and assume that she is a hooker, just because she initiates the conversation.
Remember, on Thai Cupid you are in demand!
The girls know that they HAVE to get active to score the best guy. They look at your profile, they like what they are reading and they contact you. It's really that simple. Unlike the mainstream media, they don't have a hidden agenda.
The only agenda they have is that they want to date you and that's a pretty obvious one.
Let her contact you and enjoy the attention you are getting. She obviously likes you. That's a good sign and you should definitely reply.
Send the Perfect First Message
"Hey, how are you?"
You just read the most common first message that guys send on Thai Cupid.
Boooring!
Okay, maybe she really, really likes you. In this case, she might reply to such a message. If she is, however, not 100% sure that you are the man of her dreams, she probably won't reply. Yes, you are in demand, but the fact that 9 out of the ten guys she interacted with on this dating platform have sent her the exact same message doesn't help you.
Be different. Be creative.
Give her a compliment that she hasn't heard before and ditch the "how are you?" or "what are you up to?" crap.
You can do better than that. Here's a suggestion:
"Hey girl with the blue shirt,
You've probably heard this a lot, but you have such a positive energy and cute smile that I couldn't resist writing you.
I would love to find out if you only look positive, or if you are a truly positive person, because I only want to spend my time with positive people.
P.S. your green eyes are adorable."
This message has everything.
Your direct compliments communicate that you are interested in more than a friendship
You show that you are a self-confident guy with values and boundaries who spends his time with positive people
You show that you are an attentive guy who even recognizes the color of her eyes
That's a message she will reply to.
Get to Know Her Interests and Passions
"Thai girls don't have any interests. All they care about is sanuk, sanuk and even more sanuk. Fun and entertainment mean the world for them. Nothing else matters to them."
That's what most guys believe about Thai girls.
What? You don't want a Thai girlfriend or wife?
You rather want a short holiday romance with a hot young Thai girl?
Then you must check out my Thai Friendly Review RIGHT NOW
Seriously, she does.
I have met quite a few Thai women within the last three years and while some of them are interested in old English movies and romantic novels, others are interested in painting and the latest fashion trends.
They all have interests. They all have passions.
They all wait for that one special guy who asks them about their interests and passions.
Unfortunately, for many of them this day will never come.
Don't believe the notorious bar girl dater when he says that Thai girls are too narrow-minded to have any interests. The normal Thai girls you meet online are normal women with normal interests.
Ask her about what she likes to do and you will be amazed. She'll be amazed that you ask.
Get Her On Skype or Set up a Date
Now that you have found out that laughing her ass off while watching George Carlin on stage is her biggest passion, it's time to meet her. Hell, even if she doesn't know the difference between George Carlin and George Bush, you probably still want to meet her as long as she is friendly and cute.
I know you do and I know you should. Maybe she's all you ever wanted. It's your job to find out.
When you meet Thai girls online there are two ways to take things further, depending on where you are at the moment.
Situation #1: You are in Thailand:
Ask her out. Take her on a date. Find out if she is perfect for you.
Situation 2: You are not yet in Thailand:
Get her on skype. Connect with her via video chat. Let her pick you up from the airport. Take her on a date. Find out if she is perfect for you.
She is the girl of your dreams? Don't forget to invite me to your wedding.
She is not the girl of your dreams? Get back on Thai Cupid and find the one who is…
What If You Decide to Not Meet Thai Girls Online Today?
That's it. That's all I have to say about meeting Thai women online. I shared everything you need to know and a bit more.
I already met the woman of my dreams on Thai Cupid and I know that you can do the same.
The advice that I shared with you in this article puts you ahead of 99% of guys who are on Thai Cupid. There's no serious competition for you.
All there is are hundreds, if not thousands, of intelligent, educated, independent, feminine and breathtakingly beautiful women.
Summed Up Wisdom
Meeting Thai girls online has never been easier. There is no stigma, a lot of the younger girls can at least speak decent English and when they are online they are suddenly not so shy anymore. It gets even easier when you use the right dating site.
Are you ready for my humble opinion?
Thai Cupid is the only dating site in Thailand that totally rocks.
You are swimming in a pool of young and beautiful women who all want to date you. It's like heaven on earth and if you follow the dating tips that I share with you in this article, you will sure find yourself in heaven.
Summary
Article Name
How to Meet Thai Girls Online Today
Description
Are you ready to meet Thai girls online? There are millions of beautiful and feminine women who are waiting for a guy like you. Let me show you where...
Author
Publisher Name
Publisher Logo