Chiang Mai girls are different than the women in other parts of Thailand, but I am sure that you will love them.
I still remember the day when I visited the pearl of the north for the very first time. I was amazed by how different the city and its women are in comparison to the women in the capital of the country.
Comparing the women in the north with the women in Bangkok is like comparing a rhinoceros with a squirrel. You can't compare them and when you have a look at the cultural differences between the north of Thailand and Bangkok, you will understand why.
Chiang Mai is like the non-westernized little sister of Bangkok.
This beautiful city in the north of Thailand has not one house that deserves to be called a high-rise. Bangkok has hundreds, if not thousands of those concrete blocks. The atmosphere in the north is relaxed, calm and almost meditative. The atmosphere in the capital is chaotic, hectic and loud. The temperature is way cooler than in the capital city, the air is cleaner and you won't see anyone with a face mask. You see a lot of those ninjas in Bangkok.
To be honest, this city in the north is a great place to live. Many foreigners already know that, which is why you will see more foreigners in Chiang Mai than Thai people. Seriously, it's insane. Thanks to the incredibly cheap prices and the high quality of living, this unremarkable city in the mountains has become THE digital nomad hub in South East Asia.
This development changed the dating dynamics big time. This development is the reason why it is worthwhile to have a not-so-innocent seduction adventure in the north of Thailand.
Why Chiang Mai Girls are Different (You'll Love Them)
The women in Chiang Mai are different than the women in any other part of Thailand. They have nothing in common with the women you meet in the capital, in Phuket and especially in Pattaya.
Even though the non-westernized little sister of the capital gets flooded by digital nomads and curious backpackers who dream about becoming digital nomads, tradition and conservativism still determine the everyday life.
Unless you are wandering around in the go-go bar districts of Chiang Mai, you won't see many girls with tattoos and the latest Western fashion as in other parts of the country. Maybe that's exactly why I love them.
Chiang Mai Girls Are the Definition of Relaxation
In case you have been to Bangkok before, you are familiar with the Thai walking style. The average Thai person walks like a 90-years-old senior with an artificial pacemaker and a prosthetic leg. They walk as if they have all the time in the world and they drive as if the street is collapsing behind them.
That's how the people in Bangkok walk. Now imagine this walking style at least seven times slower. The first thing that came to my mind when I walked through Chiang Mai was "how the hell can you walk so slowly?"
It's insane and do you know what's even more insane?
They do everything in slow motion! Everything!
They walk slowly, they speak slowly and they even laugh slowly. Yep, just like that guy:
https://www.youtube.com/watch?v=IL2_MreyKMY
In case you are a like me and you love efficiency and punctuality, you will get crazy in the north. Just be prepared for a very long conversation on the first date.
Oh, and don't fall over one of those sexy sloths. You could break your leg and I have to warn you. The people in the hospital are veeery slooow.
They Don't Need Skin Whitening Cream
The good news is that the girls in Chiang Mai don't need to spend a lot of money on skincare products. While the girls in the other parts of the country are obsessed with bleaching their skin, the girls in the mountains don't have to do that. Some of them might use skin tightening devices, but I've never heard that a Chiang Mai girl would use skin whitening products. 
You can find a lot of dark-skinned girls in the south and in the Isan region, but you won't find a lot of them in the north. So in case you are attracted to light-skinned Asian women, Chiang Mai is your paradise.
There are mainly two reasons why those girls are whiter than other Thai girls:
Reason #1:
The climate in the north is much colder than the climate in the other parts of the country, at least in the winter season. That's why the girls are not as tanned as the ones who live in the south or in Bangkok.
Reason #2:
When you have a look at the history of Chinese people in Thailand it is quite obvious why the skin of the girls in Chiang Mai is so white. Compared to other big cities, Chiang Mai is closer at the Chinese border. As a result of this geographic position, a lot of Chinese immigrants, who are naturally whiter than Thai people, settled in the north. Thanks to the good old birds and bees principle, a lot of the girls are at least 10% Chinese.
Finding a Girl Who Speaks English is Difficult
Now back to the bad news. Finding a beautiful light-skinned Chiang Mai girl with model qualities is not that hard. Finding one who is fluent in English is a lot harder.
Even in Bangkok day game can be quite tricky, because it takes at least five approaches until you meet a girl who can say more than "hello, my name Pim". In Chiang Mai you need at least twice as many approaches to find a girl who can say more than her name.
On the one hand, I want to motivate you to visit Chiang Mai and enjoy the beauty of the local women. On the other hand, I have to warn you. I won't lie to you by saying that their English is perfect and that dating the local women will be easy.
It's not that easy. Most girls can't speak more than three words. The good news is that things are slowly changing. Thanks to the digital nomad movement (more on that later), more and more girls develop an interest for the English language.
Chiang Mai Girls Are Very Conservative
There is one thing (besides their non-existent English skills) that I have to warn you about. Dating is already a bit tough when she only understands 10% of what you are saying, but it gets a lot tougher when you are watching a movie with a woman who hasn't even kissed a guy yet.
The movie comes to an end, you are ready to go for the kiss and she just smiles at you and says "no, I am virgin". This can also happen when you are dating a girl in Bangkok, but it is much more likely to happen when you are dating a girl way up north.
Most Chiang Mai girls are very conservative. Don't be surprised when you are on a date with a girl who acts completely shy and who starts to shiver when you try to kiss her. You might be the first guy who ever tried to kiss her.
Of course not all the girls who pretend to be conservative and shy are actually conservative and shy.
Some of them are very good at hiding their naughty side. It's your job to find them…or to marry a virgin.
The Girls are Down to Earth
One thing I hate about the girls in Bangkok is that many of them are extremely materialistic. They have to have the latest smartphone. They have to have at least one gadget with the bitten apple symbol. They have to wear the latest designer clothes from Siam Paragon.
I mean, I don't blame them for their materialistic attitude. The influence of the Western "keeping up with the joneses" mentality has a huge influence on the younger generation of Thais in Bangkok.
Chiang Mai is not that much influenced by the Western way of living…at least not yet.
The girls are more down to earth and the women I met during my trip up north placed more value on a happy family than on the latest overpriced Apple product. Maybe I was just lucky and met the right girls. Maybe you make a different experience. Let me know in the comments below.
Chiang May Girls are Very Friendly (and Shy)  
One thing I love about the women in the north is their friendliness. Thai people in general are extremely friendly, but the girls in Chiang Mai deserve the "friendliest ladies in the world" award.
They welcome you, they smile at you and they help you, even if they have to use their hands and feet as a means of communication. They are so friendly that it hurts. The only problem is that they are not only the friendliest women in Thailand, but also the shiest.
The combination of friendliness and shyness can lead to shysmiles and awkward behavior that can easily be misinterpreted as dismissive body language.
Just because she smiles awkwardly and takes a step back doesn't mean that she is not interested in you.
She might be totally into you, but too shy to show her interest. Let her type her number into your phone anyway. You can still meet her later when her face is no that red anymore.
They Have High Standards Because of the Digital Nomads
And again, I have to be honest. I have to be brutally honest.
In case you are this guy…
…you won't have a lot of fun in the pearl of the north.
I don't say that Chiang Mai girls don't date older guys. I have seen educated university girls with guys who were at least ten years older. I also don't say that those ladies don't date guys who are a few kilos too heavy to play the leading role in anorexia awareness commercials.
However, I do say that the ones who are not working in dubious bars won't date a guy who is terribly overweight, older than god and more socially incompetent than Kanye West at the VMA's.
I am sorry to say that, but thanks to the digital nomad movement the women in Chiang Mai developed some pretty high standards. They are surrounded by ambitious entrepreneurs with decent networking skills. Most of them (myself included) are dirt poor, but ambition and social skills can go a long way.
They Used to Avoid Foreigners
Good social and seduction skills can be extremely helpful when it comes to picking up Chiang Mai girls. However, that doesn't mean that it is impossible for you to seduce the local women…at least not anymore.
It has been impossible a couple of years ago.
Before the digital nomad movement the women in the north avoided foreigners like mice avoid cats. According to a guy I met on the flight to this beautiful city, the local women could either avoid foreigners or get into big trouble with their families. He lives in this city for more than 15 years, so he must know it.
Apparently, the only stereotype they had about foreigners was the "I am paying for sex" type of guy. They didn't know that foreigners can also be expats who are looking for love, backpackers who are looking for a short term relationship and entrepreneurs who want to find a girlfriend.
The local women used to avoid foreigners, but things are changing…
Their Attitude Towards Foreigners is Changing
Yes, things are changing slowly but surely. About ten years ago every Chiang Mai girl who had a so-called Farang as a boyfriend was looked at as if she was a hooker. Today most local people look at her and see a normal Thai girl who is dating a foreigner. It's not that special anymore.
According to a handful of Thai people who I talked to during my trip to Chiang Mai this positive change in attitude is the result of the digital nomad movement. I don't deny that some locals hate digital nomads, because they are responsible for the rising popularity and therefore rising prices in the capital of the north. I totally understand that.
However, you and I can thank the digital nomad movement for one thing. It showed the locals that even if foreigners are interested in dating the local women, they can still be normal human beings…just like these guys:
https://www.youtube.com/watch?v=zLjtpr1hCHU
Thanks to those guys you have it a lot easier to date beautiful Chiang Mai girls.
Where and How to Meet Chiang Mai Girls Online
I talked to a lot of my digital nomad friends about the best place to meet Chiang Mai girls. Many of them live in this beautiful city in the north and most of them are together with Thai girls. In fact, there's only one guy who is dating an English girl. God knows why.
As you would expect from people who spend 10-12 hours a day staring at their laptops, it was quite easy for them to choose the perfect place.
The internet.
You don't have to go to fancy and ridiculously expensive clubs (even though I list them later…just in case). You don't have to walk around the city all day long and play hit and miss until you meet a girl who speaks English.
Nope, you don't have to do any of these things. Be glad that you have this weird thing called the internet. It's a place where you can distract yourself with stupid cat videos and a great place to meet women who live in Chiang Mai…at least when you know the right website.
Thank God I know the right site. I met my wonderful Thai girlfriend on it.
It's called Thai Cupid.
90% of my digital nomad friends, who have met their girlfriends online, have met them on this website. Heck, I just had a look at my own Thai Cupid profile and searched for women in Chiang Mai.
There are thousands of girls. And even though, now that I write these lines, it's already midnight in Thailand, there are still dozens of girls online. I just saw two who were so cute that I couldn't stop myself from staring at their profile pictures. Creepy, I know.
But how do you contact them?
Easy!
Step #1 of Meeting Chiang Mai Girls Online
First, you check out my Thai Cupid review and join the best Thai dating site.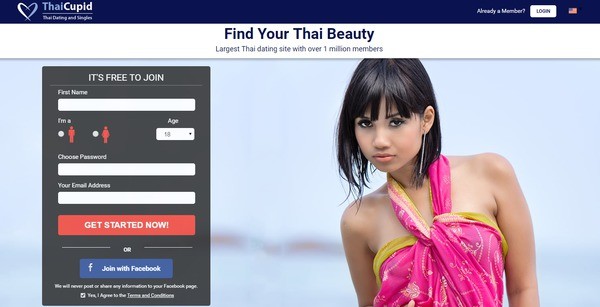 Yes, it's free to join. All you need to do is to type in your email address and choose a password.
Once you have logged in, you are asked to upload a profile picture.
Now go to your Facebook account and choose the best picture you can find. Or take a selfie with your smartphone. Or ask your wife to take a picture of you and tell her that you need it to finally get away from her.
Step #2 of Meeting Chiang Mai Girls Online
Don't be shy. Reveal something about yourself. Upload some naked selfies. The girls will love it.
I'm just kidding…or maybe it would work. I've never tried it.
When I say that you should reveal something about yourself, I am talking about your profile. Yes, fill it out. Don't be like other guys (yes, also some of my digital nomad friends!) who leave their profile empty or write some generic "traveler looking for companion" line.
Boooring!
And you don't want to be boring. In a city that is full of wannabe entrepreneurs, you can't get the models and long-legged stewardesses by writing one generic sentence that says absolutely nothing.
Write about who you are, what you are doing up in the north and what you are looking for in a woman. Be honest and show that you are serious. THIS will lead to one message and interest after another….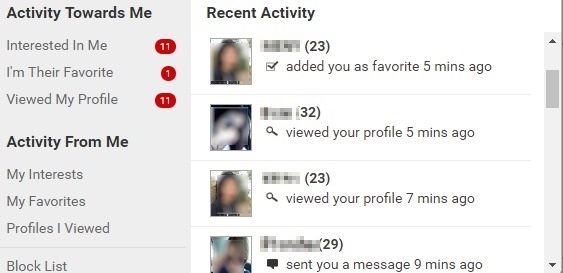 Step #3 of Meeting Chiang Mai Girls Online
You have filled out your profile. You have clicked on at least five beautiful profile pictures that turned you into a drooling dog. Now you are ready to upgrade your membership in order to contact as many women as possible.
I've done it to meet my girlfriend (love you honey!) and you should do it to meet and date as many Chiang Mai girls as you want. And you will. You will have as many dates as you want. This city is full of beautiful women. Maybe you'll also find the love of your life.
Oh, just one last thing. When I was in Chiang Mai I had great success with this opener. I think I sent it to over twenty girls. Feel free to copy and paste it:
"Hey Name,
Yes, I am a digital nomad, but I won't force you to watch Tony Robbins seminars with me and/or to talk about drop shipping.
I am a bit different. I'm more like a digital romantic who would love to watch a romantic movie with you and then sit in a café and stare into your beautiful eyes (please don't wear contact lenses).
I also promise that I will neither bring my MacBook nor my GoPro to our first date. Just me and you and the king size popcorn that I am going to buy you at the cinema.
Are you available this Wednesday?"
Where to Meet Chiang Mai Girls During the Day
Now you know that the women in the north are different than the women in any other part of the country, but do you also know where to meet them?
In Chiang Mai, Duh!
Of course you are going to meet them there, but wouldn't it be stupid to walk around all day getting sunburn without ever finding beautiful women to approach? You would be red like a lobster, but you wouldn't get laid.
That's the last thing I want. I want you to get laid in Chiang Mai. I want you to meet the light-skinned Thai girl of your dreams way up in the north.
It's the easiest, most convenient and the most efficient way (sorry, but I am German and I love efficiency) to meet hundreds of beautiful women who live in the capital of the north and who are desperately waiting to meet a man like you.
I met my girlfriend on Thai Cupid. Now it's time for you to meet yours.
In case you are living at the back of beyond and you have never heard about that tiny phenomenon that is called the internet, you can meet sexy light-skinned Thai girls at…
Central Airport Plaza
The Central Airport Plaza is a shopping center in the Mueang district in Chiang Mai. With approximately 6 million visitors (many of them sexy girls), this mall is the biggest mall in the north of Thailand. It is absolutely perfect for your day game adventures.
When I visited this place it was packed with beautiful women who were hunting for makeup, accessories and handsome foreigners. Okay, they might not have been hunting for foreigners, but they were definitely open for a conversation 😉
Maya Mall 
Are you into beautiful, young and educated women?
I don't know a single guy who isn't. You can find a lot of them in the Maya Mall. It's an entertainment and shopping mall that, according to my impression, focuses on younger customers. This makes a lot of sense, especially when you consider that the university is just 2 kilometers away.
If you want to approach beautiful university students without getting a tinnitus in a club, this is the best place to go to. You can meet so many university girls there, it's unbelievable. There is actually just one place that's even better for meeting educated women in this city.
Chiang Mai University  
He Chiang Mai University is located in the Nimmanhemin area and it is, as you already know, just two kilometers away from the Maya Mall. It's an amazing place to meet young and educated women, especially when you're the same age as me.
It can be a bit more difficult when you are older. The university guards in Bangkok are used to older foreigners who study at one of the international universities. In the north this is not so common.
For the security guards your attempt to meet college girls might look like this:
Older foreigner who walks around on campus = creepy guy who wants to pay girls for sex
Those guys don't care if you are actually there to meet your future wife. Be careful.
The Only Park in Chiang Mai
Chiang Mai is the pearl of the north.  It is surrounded by the jungle. It is the green utopia of Thailand. And it has no parks.
Somehow it is amazing that this city has everything, besides parks. I think I have to call the mayor and tell him that parks are perfect for meeting women in the daytime and that he has to build one.
Oh, wait. I think I don't have to call that dude. There is actually one park in Chiang Mai and guess what? It is perfect to meet beautiful women who enjoy the sun and a good book. It is not directly in the city center, but it is a nice place with a lot of green, some digital nomads who look like red lobsters and some local girls who relax and wait for a guy who brings them an ice cream.
You can find out more about the only park in the city in this article.
Where to Meet Chiang Mai Girls at Night
Yes, the nightlife in Chiang Mai does exist.
If you want to date hot party girls who want to have fun, my Thai friendly review will make you smile 
No, it is not comparable to the nightlife in Bangkok.
There are quite a few good clubs in the north (I am going to share the best ones with you), but if you came here to party until you can't puke anymore, I have to disappoint you.
You are not in a metropolitan city and there are not hundreds of different clubs to choose from. There are a few good ones, but if you expect a vibrant nightlife like you find it in Bangkok, you shouldn't come here.
In case you don't need to visit ten different clubs that all look the same and drink five variations of the same disgusting vodka and you are just here to meet beautiful girls, you will have a good time anyway.
Chiang Mai Night Bazaar
Now that you are all fired up and ready to drink yourself to death, it is time to introduce a place where you won't find a lot of alcohol, but many approachable ladies. I know, I am mean, but the women you are going to meet at the Chiang Mai Night Bazar are anything but mean.
They are in a good mood, they are ready to enjoy delicious Thai street food and some of them are very lonely. Oh, and thanks to the dimmed light and the crowd of people, nobody will see that she is flirting with you. She won't be judged and she knows that.
Warm Up Café Chiang Mai
Once you are tired of talking to girls on the dark streets while the smell of innards delights your nose, you can hit one of the clubs in the city. Why not start with the best club? That would be the Warm Up Café.
As a single man who is looking for the most beautiful women in the north of Thailand, this is the place to go. Of course there are a lot of Farang competitors in this club, but the sheer number of beautiful women that you can meet there makes a visit worthwhile…
https://www.youtube.com/watch?v=lJ-mBvjVCv0
Spicy Nightclub
I planned to mention only clubs that I can highly recommend, but I simply can't leave this one out. Maybe I have to mention the Spicy Nightclub, because I don't want you to end up like Chris who got bitten by a crazy Farang.
I really don't know what I should say about this club besides this:
"Avoid it!"
The only thing I have seen during the 20 minutes I stayed in this club (I couldn't take it any longer), where local women who looked like hookers and local guys who looked like aggressive bullterriers after a steroid cure.
Avoid it and go to the next club instead.
Monkey Club (Club is Closed)
The monkey club was the third club that I went to in Chiang Mai. In my opinion it is not as amazing as the Warm Up Café and not as unpredictable and scary as the Spicy Nightclub, but still a great place to meet beautiful local women.
The club combines a lounge area with a smaller nightclub area. The atmosphere is stylish, but not too posh. I really enjoyed it there.
https://www.youtube.com/watch?v=LNDa5ZR4neA
There are quite a few foreigners. Nevertheless, the women are very approachable.
While you find a lot of the 10's (Thailand has some good plastic surgeons) in the Warm Up Café, you'll find a lot of more down-to-earth girls and a few hipsters in the monkey club.
How to Succeed at Dating in Chiang Mai
Now that you know where to find the most beautiful local women in malls, in parks, at bazars and in clubs, it's time for some first-hand Chiang Mai dating tips.
Finding all those super cute women and not shitting your pants when they smile at you is one thing. Avoiding the most common dating mistakes that most guys make when they date try to date northern Thai girls is a bit trickier.
There are some traps you can fall into and I am not talking about the ladyboy trap that awaits you at Nana Plaza.
Learn at least a Few Words in Thai
What was the one thing that Chiang Mai girls can't do?
No, it has nothing to do with the Kamasutra.
The one thing that most of the sexy light-skinned ladies you are soon going to meet can't do is to speak proper English. While it is not impossible to meet a girl with decent English skills, you are going to have a lot more fun and success when you can speak at least some words in Thai.
Here's the Chiang Mai Thai crash course for aspiring Global Seducers:
Sawadee – Hello
Bpen yang –rai bang – How Are you?
Yin-dii thii daai ruh jak – nice to meet you
khun suay maak – you are very beautiful
phom rak khun – I love you
Match Her Standards
If you walk around in shirts with the imprint "I Love Pattaya" and you haven't washed that shirt in the last 164 days, you won't have a lot of fun with the women in the north.
You don't have to dress to impress, but a nice shirt (one with buttons in the middle and no elephants on it) should be on your "to-buy" list before you fly in the north.
Just look like a normal human being and not like a caveman and you should be fine 😉
Don't Confuse Shyness with Disinterest
What's the most common reaction that you are going to experience when you approach a woman in Chiang Mai?
She smiles. She giggles. She nervously struggles for the English words she has learned in primary school. She takes a step back and makes the wai gesture.
Yep, that one:
While at least 95% of courageous foreigners interpret this reaction as the direct translation for "fuck off, I will never go down on you!" you know better. You know that shyness and disinterest are not the same. You know that you have to be patient and considerate when you interact with cute Chiang Mai girls.
In case being patient is not one of your strengths, you can simply go on Thai Cupid and meet dozens of beautiful girls there who magically turn from shy girlies into sexually aggressive girls.
Avoid Her Parents
Now I just have one last tip for you. This tip concerns the two people who created and raised the girl you end up dating.
She might be the sweetest girl you have ever met. She might be totally into you. That's all fine and dandy, but she also might be one of those girls who can't wait to introduce you to her parents.
Don't do it.
Remember, her parents are not as open-minded and not as familiar with the Western culture (this includes the Western dating culture) as the parents of the girls in Bangkok. They have a conservative attitude towards dating.
Still don't get it?
You agree to meet them = You want to marry their daughter
One of my friends ignored this advice and met the parent of a girl he was dating for two weeks. They were the definition of friendliness up to the point when he revealed that he will soon leave the country to find work in Canada.
He is still happy that he survived the dinner and I would be happy if you would have an awesome time in Chiang Mai with an amazingly beautiful local woman and not with her mother.
Click here to meet this incredibly beautiful Chiang Mai girl today.
Summed Up Wisdom
Chiang Mai girls are different but adorable, at least when you are into light-skinned Asian women who are extremely calm and relaxed. They have a positive attitude towards foreigners (at least better than 10 years ago) and they are very friendly and down to earth. The only two problems you might face are their English skills and their conservative attitude.
The best place to meet hundreds of beautiful Chiang Mai girls is on Thai Cupid.
In case you want to meet them during the daytime or at night, there are a lot of malls, parks and clubs you can go to. The Central Airport Plaza and the Warm Up Café are just two examples. Now you just have to learn a few words in Thai and don't misinterpret her shy behavior. Oh, and avoid her parents. They might be a bit too conservative for you.
Summary
Article Name
Why Chiang Mai Girls are a Digital Nomad's Wet Dream
Description
Chiang Mai girls are different than the women in other parts of Thailand, but I'm sure you'll love them even more. Prepare yourself for a culture shock.
Author
Publisher Name
Publisher Logo