Today I want to show you how to talk to girls on Facebook...
Uhh, I can already hear hordes of sexually frustrated men and women all over the world screaming:
"This is so creepy!"
"Only creeps try to pick up girls on Facebook!"
I mean, one of my colleagues even wrote an epic article about how to flirt with girls on the number one social networking site.  That article consists of a simple "don't". Even though I expected a bit more insights and advice from the Doc, I have to agree with him in some way.
When you have a look at how most guys try to get lucky using Facebook, you can't really say anything else than "don't freaking do it".
However, just because there are a lot of morons out there who make it increasingly difficult for interesting and at least kind of normal guys like us to score on the website with many annoying timeline videos, doesn't mean that you should avoid it.
Even though you won't ever hear me saying that picking up women on Facebook is an appropriate substitute for approaching women in real life, it would be a fatal mistake to ignore it.
This tiny blue and white website is the home of more than one billion users every month.
Of course not all of them are women, but a lot of them are and a lot of them are single. The only reason why some girls are paranoid when they get a message from a stranger (you'll later learn how to break this barrier) is because so many guys do it wrong…
Update 06.08.2016:
Thanks to the overwhelming feedback I received from many readers who tried my recommended "fast lane" to Facebook dating success, you will find a detailed review of the method that I used to increase my response rate from the girls I contacted on Facebook by 400%. 
Click here to read my review of the best Facebook dating product out there
How to Be Creepy on Facebook (Avoid It)
Before I am going to reveal the exact steps you need to follow if you want to tell your buddies that you have met your new girlfriend on Facebook, I want to give all the haters some nourishment.
Why do I do that? Not because I love my haters, but because I simply can't deny the fact that there are a lot of creepy people on the internet. In the same way as I get some really nasty hate comment from people who haven't even read a single article on my site, women all over the world get spammed by creeps who think that the following messages will magically open their legs:
"Hey sexy, how are you?"
"Wow, you are so amazing, do you want to hang out?"
If a girl replies to such a message she just plays with you. Or she hasn't had sex in 10 years.
If you are serious about learning how to talk to girls on Facebook you need to be a bit more creative, but more on that later. For now I want you to have a look at two other creepy things you can do, besides putting "sexy" in your first message.
Like, Comment, Like, Comment
As much as I love women, I can't deny that there are a lot of narcissistic girls who use social media as their playground.  It is also no secret that getting hundreds of likes and comments increases this condition.
This wouldn't be so much of an issue if there weren't millions of guys with an attention deficit disorder who act as the perfect supplement of all those narcissistic girls. While she gets excited once she received the twentieth comment with "you are so sexy", he gets an erection when she likes his comment.
We can only imagine how many women will commit suicide when Facebook implements the dislike button…
As a result of this interplay a lot of guys mistakenly assume that all they have to do in order to get a girl's attention is to like her picture and to write a stupid comment under it.
If you don't believe me you just have to look at lord friend zone in the last comment:
In case you think that this creepy behavior is the fast track to her panties I want to congratulate you:
"Congratulations. You do the same as 99% of other guys and you get the same results as 99% of other guys. You get nowhere."
Stop the liking and the commenting and think about what could really work.
Message One, Two, Three
Another sure way to creep out every girl with a social media account is to bombard her with one message after another without giving her the time to reply. With this behavior you basically force her to block you and to lose faith in men.
"Hey sexy, how are you?"
"Have you received my last message? You are really beautiful and I would love to talk to you."
"Hey, am I not good enough for you? Why don't you reply?"
"You are not that beautiful, you stuck-up bitch!"
Yep, these are the kind of messages that will make her fantasize about you in her wet dreams…
How to Be a Normal Dude on Facebook (Embrace It)
Just because there are so many creepy guys on Facebook doesn't mean that you have to be one of them. In fact, it is very easy to NOT be creepy when you simply behave like a normal dude.
It somehow amazes me when my close female friends show me some messages from guys who tried to pick them up on Facebook. None of these guys would say the things they write during a real conversation in a coffee shop, on the street or in a shopping mall. Heck, I am 100% sure that most of the guys who literally harass women on social networking sites wouldn't write such a crap when they would pay a monthly fee on a legit online dating site.
When you come to think of it a conversation on Facebook is the same as a conversation you have on the street. Even though it is a virtual conversation without direct eye contact it follows the same principles that also apply to a conversation you have with a girl in the real world.
She doesn't want to get to know a self-proclaimed Facebook playboy. She doesn't want to meet another insecure wimp who likes every single one of her pictures and gets angry when she doesn't reply.
All she wants is to meet an authentic man who is honest about his intentions and who is confident enough to make fun of the awkwardness of the situation.
She just wants to meet a normal dude with balls and laughing muscles.
If you still think that showing pictures of cars, booze and abs and writing messages with "sexy" and "hot" is the key to her panties, you should watch the following video in which women reveal how to talk to girls on Facebook:
https://www.youtube.com/watch?v=GNQ_dOFd-tI
Then let's have a look at how to really talk to a girl on Facebook, no matter if you have never seen her before, if she knows that you exist or if you have already picked her up in real life.
How to Talk to Girls on Facebook When You Have Never Seen Them Before
There are many different situations in which it is a good idea to chat up a girl on Facebook. Let's start with the most difficult one…
You have never seen her before, you have never talked to her before and she doesn't know who you are.
Hell, she doesn't even know that you exist.
Maybe you have found her in a certain group that you are active in. Maybe you have seen her pretty profile picture while you were searching a friend of a friend. No matter how you found her, for some reason you can't get her out of your mind. Something inside you screams "talk to her or you will regret it".
The question is:
How do you do that? How do you start a conversation with a girl who doesn't even know that you exist?
1. Why You Should Send a Message BEFORE You Send a Friend Request
The first mistake that guys make when they try to flirt with girls on Facebook who they have neither seen nor spoken to in real life is that they send a friend request in the hope that she will accept it. In my experience this works one out of 100 times.
Do you know what I do whenever a stranger sends me a friend request? I do anything but accepting it. You never know if it is a scam profile that wants to get rid of some nasty viruses or just a weirdo who tries to make as many imaginary friends as possible.
Think about it. It doesn't make any sense to add someone as your friend when you don't know if this person exists.
Of course some girls will accept the friend request, but those are the so-called friend collectors who are brag with their 1453 followers aka worshipers.
Let her know that you are a real human being before you ask her to accept you as her friend.
2. What You Should Write
What should you write to a girl who you have only seen on two or three pictures?
Instead of boring the hell out of her with a generic message that she has already received from at least ten strangers within the last week, you should give her exactly what she craves for. If she is a beautiful woman who is single for a long time she craves for honesty and understanding of her situation.
What situation am I talking about? She is a gorgeous single woman with a nice profile picture who receives smarmily comments and phony Likes all day long. It is your job to show her that you are an honest and empathic guy with a sense of humor who sets himself apart from the bulk of uncalibrated idiots she has to deal with every day.
Instead of being just another dude who writes something like "hey you are sexy, how are you?" you might want to think about something like this:
"Hey Amanda,
I know that you probably get hit on a lot by random dudes and that you are annoyed by it, but I still hope that you read this message.
I was just looking for a mutual friend when I saw your pictures. You have a really inviting smile and it seems that we are interested in the same stuff. I don't want to be creepy, but somehow I just had to write this message.
I would be happy if you would reply. If not, I respect your decision.
Regards,
Jason"
This message shows that you understand her situation, it proves that you have the emotional intelligence to know how a lot of guys behave on Facebook and it shows your interest in an honest way.
Now you just have to wait.
3. Why You Should Send a Friend Request (or a Short Reminder)
Did she reply? Yes? Awesome!
Now you can confidently send her a friend request. If she replied to a message from a guy she has never seen before, there is a 90% chance that she will accept your request. Now that she has accepted your friend request it is time to connect with her by talking about the right topics.
What if she doesn't reply?
In case you are not friends with a person you write to, Facebook has the nasty habit to move your message to a folder that can easily be overseen. You can't blame a beautiful woman who receives 23 messages and 56 likes every day for missing your message.
Therefore, it is okay to send her one last message.
"Hey Jenny,
A couple of days ago I sent you a message. I would be happy to hear from you. If not, I won't text you again 😉
Regards,
Jason"
What if she doesn't reply to this message?
Leave her alone.
Are YOU torturing girls with your Facebook messages?
Then you need to read THIS review
Even if she just hasn't seen your message you would automatically throw yourself in the creep zone if you would text her again. Don't get angry when she doesn't reply and don't blame her for being arrogant or bitchy. Respect her decision and move on.
How to Talk to a Girl on Facebook When She Knows that You Exist 
Let's have a look at the second situation that makes talking to her on Facebook worthwhile, if not necessary.
This time she knows that you exist. Maybe she just joined your social circle and you have already talked for more than five minutes. Maybe she is in your college class and you said "hey" to her for many times without actually starting a conversation.
While she knows that you exist, you dream about becoming her boyfriend and showing her what it really means to be together with a passionate lover. She knows you as the dude from her class. You know her as the girl you want to end up in bed with.
Let's use Facebook to make that happen.
1. Why You Should Directly Send a Friend Request
If she knows that you are a breathing human being with a heartbeat and not a fake profile with a virus, it is absolutely okay to send her a friend request before you send her your first message. She might not know if you are Jared from her Chemistry class or Jason from her Yoga class, but she will remember your face.
And if she remembers your face she will most likely accept your friend request.
However, just because she accepted your friend request doesn't mean that she will accept you when it knocks on the door.
Some girls accept your friend request because they want to talk to you. Others do it because they want to be nice. It is your job to make her want to get to know you, even if she just accepted you as a friend because she didn't want to be rude.
2. What You Should Write
What should you write to a girl who knows that you exist and who also knows how your visage looks like?
Hiding the fact that you have seen each other before would be stupid. Starting the conversation with "I know that you probably don't remember me" would also be stupid. Women want to date men who are confident enough to know that they leave their mark on people. They don't want to date a guy who is convinced that his face is not worth remembering.
Let's have a look at how you can start the conversation while appearing funny but not insecure:
"Hey Laura,
I'm the guy who always falls asleep during the chemistry class. It would sound cheesy as hell if I would say that looking at you is the only thing that helps me to not fall in a coma during class, so I don't say it 😛
Anyway, I am actually kind of into you. Busted!
I would really love to get to know you, but don't worry…I won't tell anyone that you replied. I mean, everyone knows that flirting on Facebook is kind of creepy 😉
Hope to hear from you.
Jason"
This message is funny, you show that you are emotionally intelligent enough to understand that what you do is slightly awkward and you also proof social intelligence by letting her know that she doesn't have to fear any social judgement from your and her peers.
3. Why You Should Respect Her Privacy
I just want to emphasize one aspect of the exemplary message that I just shared with you.
"I won't tell anyone that you replied"
If she is a girl you know from your class, your work, or your social circle, this small part of the message can make or break your success.
We still live in a society in which a lot of women are afraid for being judged as bad girls whenever they show that they are interested in a guy. When it comes to a flirt on Facebook her biggest fear is that you post her reply publicly, that you send it to your friends or that you tell anyone that she is easy.
If she doesn't have the feeling that you understand her fears and that you respect her privacy, she won't reply, at least not the way you want her to reply.
Letting her know that you are really interested in getting to know her and that you are not here to play some stupid chat game can be the determining thing that motivates her to reply.
How to Talk to a Girl on Facebook When You Already Picked Her Up in Real Life
Now let's have a look at the last situation in which talking to a girl on Facebook makes more sense than sending her a letter pigeon.
In this situation you already know the girl and surprise, surprise, she already knows you. How did she get to know you? Well, you were the fun, exciting and charming man who approached her completely randomly on the street. You were the knight in shining armor that told her how gorgeous she is while she was wondering in which supermarket she could get the softest toilet paper.
Your approach was smooth, the conversation went well and her smile was real. It could have been perfect if you wouldn't have made a popular rooky mistake.
You didn't take her number, you asked for it, which resulted in the following question:
"I usually don't give my number to strangers. Why don't you take my Facebook?"
Certain of victory and proud like a peacock you added her on Facebook. The moment she walked away you realize that getting her number would have been more of a sign of attraction than adding her as a friend.
Even though it would have been easier to get her on a date by simply calling her instead of planning a nifty Facebook messaging strategy, the following approach should make it relatively easy to motivate her to go out with you.
1. Why You Should Directly Send a Friend Request
She knows your face, she expects you to add her and she is excited to chat with you. There is absolutely no reason why you should send her a message before you send her a friend request. She wants to be your "friend" (with benefits).
Nevertheless, you deserve a knuckle sandwich if you still have to add her.
It is your job to make sure that she has already added you BEFORE you end the conversation in the real world.
You also don't walk away from a girl who asks you to give her your number without making sure that she has saved it.
2. What You Should Write
Her knees are wobbling like jelly while she awaits your first message. There is absolutely no reason to beat around the bush. You don't have to explain who you are and you also don't have to promise her to keep this conversation a secret.
You are into her and she is hopefully absolutely into you. Don't waste your time with meaningless small talk. If you had a connection during your first conversation on the street, the only thing you have to do is to connect with her on an even deeper level.
How do you do that?
You will learn how to connect with a woman both on an emotional and on a sexual level by joining my newsletter.
Let me give you an example of a good first message:
"Hey Samantha,
It's me…the crazy guy who walked up to you on the street (Sorry, but you are so beautiful I couldn't control myself)
Anyway, I really enjoyed our conversation and I would love to find out more about your passion for "insert topic you talked about" and your personality.
Why don't we meet this Saturday for a coffee at that amazing café that isn't Starbucks?
Let me know if you have time or if we have to meet another day.
Jason"
With this message you make clear that you are interested in her and that you want to get to know her. You don't waste any time with mind-numbing small talk and you show confidence by implying that you are sure that she will come another day if she doesn't have time on the day you suggested.
Now I already hear you say:
"Isn't that too soon to ask for a date?"
3. Why it is NOT Too Soon to Ask for a Date
In case you think that asking a girl out with the first message is too soon, I have a very simple answer for you:
Nope.
Of course you should connect with a woman before you ask her to go out with you, but you should have done the majority of connection during your approach. If there would have been not at least the slightest connection during the first interaction she wouldn't have added you in the first place.
Your first Facebook message fulfills the same purpose as the first call:
You tie in with the conversation you had during your first interaction and you close the deal.
That's it. No need for small talk and smileys.
Now it's time for you to enjoy all the messages and kiss smileys you will soon find in your Facebook dashboard and…
Oh, wait a second!
I actually forgot to tell you something. Oh man, my Alzheimer's gets worse every day. I wanted to tell you about Ben Ezra, a dude who shared his wisdom on Daytime Toronto and many other TV shows.
I never met him in person, but a companioned dating coach did and he said he's awesome. I believed my friend.
Today I am glad that I believed him, because Ben helped me to improve my own Facebook dating success.
I mean, I already shared a lot of valuable lessons that teach you how to talk to girls on Facebook in this article, but one thing I haven't shared yet *evil laugh*
I still haven't told you about the best Facebook dating program in this galaxy. And yes, I have tested a lot of them…even the ones from more famous dating coaches (most of them are total crap).
If you really want to meet dozens (or hundreds!) of beautiful girls on the tiny blue messenger that Mr. Zuckerberg kindly created, you don't want to miss the next couple of paragraphs…
How Ben Ezra Gave Me an Extra 400%
No, I am not talking about the size of my… In case he would have given me 400% extra for THAT, I wouldn't be able to walk anymore.
Ben gave me something even more valuable. His knowledge, advice and unbeatable system allowed me to increase my response rate from all the cute girls I contacted on Facebook by 400%.
I mean, I had success on this platform by using the same tips and tricks that I shared with you in this article, but his advice took it to a whole other level.
But I have to admit it. I had my doubts when I purchased his product. Why? Well, because even though I currently read Ryan Holiday's amazing book "Ego is the Enemy", I am still not that good at controlling my ego.
Here's what I told my friend who recommended me to check out Ben's product:
"I wrote the best article about how to talk to girls on Facebook that's out there and you want to tell me that there's a guy who knows more about this topic than me?"
Pure. Ego.
Thanks to my stupid ego I was so close to NOT enter my credit card details. Eventually, I did. Here's what I wrote to my friend after I tested Ben Ezra's Network Pickup: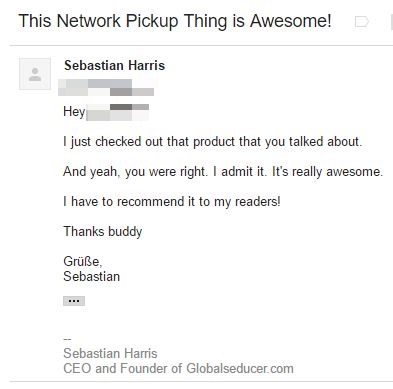 I sent this email two days after I logged into my member's area: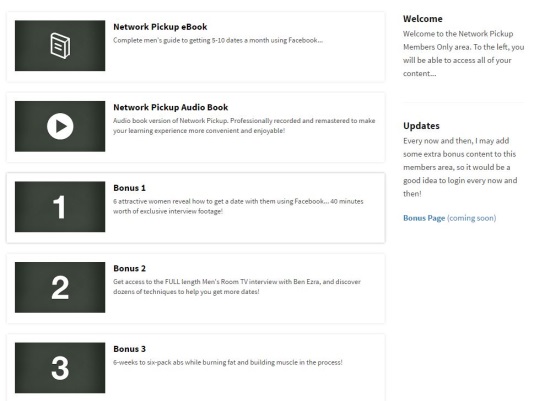 How Network Pickup Can Turn You Into a Facebook Chick Magnet
I don't even know where to start. Heck, I am definitely going to write a review about this product, but here's what I would tell you right now if you'd ask me "How can Network Pickup turn me into a Facebook chick magnet?":
The most valuable aspects of this product are…
…the bonuses.
Surprised?
Yes, the eBook and the audio book are awesome and I learned a hell of a lot from them.
I learned how the "coolness algorithm" can help me to get laid, even with simple likes (as you have probably read, I didn't believe that this was possible at the time I wrote this article)
I learned to increase the messages and responses I received from hot girls by applying ancient wisdom from Plato.
I learned how to get women off of Facebook and into a café (and eventually my bed) by copying and pasting Ben's messages.  
I learned all these things, but I still believe that the bonuses are even more valuable…
You are going to watch how Natalia reveals the one thing that 99% of men do wrong when talking to girls on Facebook for the very first time. She reveals it within the first 40 seconds of her interview.
You are going to watch how Sally reveals the worst message she ever got from a guy on Facebook (don't send this one unless you want to end up in the "creep zone"!)
Those are just 2 of the 6 beautiful women who Ben interviewed (#6 has a cute Russian accent).
Oh, and then there is Ben's 39-minute Men's Room Interview in which he shares his own struggles, the top mistakes guys make with women and so much more.
Click here to find out how all these interviews took my Facebook game to the next level!
But hey, due to the fact that I already recommended Ben's product to many readers who were, just like you, interested in talking to girls on Facebook and getting these girls on dates, I am not the only one who experienced amazing results with Ben's teaching.
What Other's Say About Network Pickup
Here's an email I received from Theo (before you ask: he didn't allow me to share the picture of his girl on the site):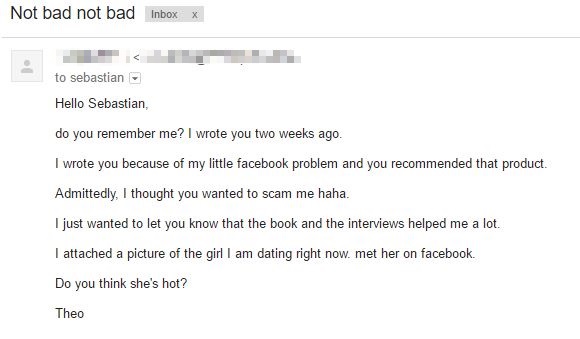 And here's an email I received from Hakim who found his girlfriend thanks to this article and the network pickup course: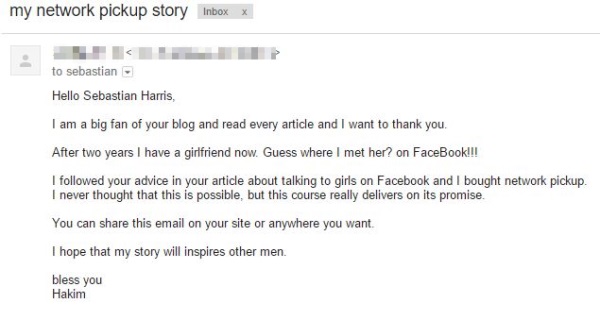 Now it's on you if you want to check out Ben Ezra's network pickup course and to make your friends jealous with your hot new girlfriend while they continue to write "you are McGorgeous" under every picture.
All I can say is that it helped me, that it helped other guys like you and that I won't stop recommending it until Ben stops offering this product, which might be very soon…
Click Here For My Detailed Review of Network Pickup
Summed Up Wisdom
The first step of learning how to talk to girls on Facebook is to avoid being a creep. Stop liking and commenting every stupid picture that shows that she has a hot body and don't bombard her with messages. Allow yourself to be a normal dude, even if everyone else behaves like a weirdo as soon as they are logged into their social media accounts.
If you have never seen a girl before and you want to flirt with her on Facebook it is better to send her a message before you send her a friend request. If your message makes it obvious that you have social and emotional intelligence you can send her a friend request after she replied. If she knows that you exist, you can send her a friend request and then contact her in a humorous way. And let her know that you respect her privacy.
In case you want to talk to a girl on Facebook who you have approached on the street, you should already be her "friend" after your first interaction. Now all you have to do is to use Facebook to ask her out. And no, it is not too early to do this with the first message.
Summary
Article Name
How to Talk to Girls on Facebook (Without Being Creepy)
Description
Do you want to know how to talk to girls on Facebook without being creepy? Then stop liking her pictures and forget about writing phony comments.
Author
Publisher Name
Publisher Logo