Have you ever been in bed with two beautiful Asian women?
Have you ever had an Asian threesome?
I had this experience.
Well…almost.
Do YOU want a threesome?
The following story happened during my travels to Asia in March 2013 when I visited friends in Bangkok.
One day I explored the Red light district of Bangkok, I asked for the way to a good club, was invited to a hotel and ended up having sex in a shower at 6 am in the morning.
Now I am going to tell you everything about all the crazy, weird and scary things that happened in between…
It was a typical evening in Bangkok. The temperature was above everything a European guy like me could handle and the humidity was too high to walk one meter without sweating like a pig.
I had seen almost every part of Bangkok; at least I thought I had seen everything. I went through all the backpacker areas, visited the tourist attractions, the markets, the shopping centres, everything.
The only thing I hadn't seen was the red light district.
Even if I wasn't interested in having sex with some filthy Thai hookers who are extremely good at hiding their dicks, I wanted to see the world of prostitution in Bangkok. At about 7 pm I went on my way to explore the area around Soi Cowboy.
The Perfect Approach to Get an Asian Threesome
To be honest, if you are looking for someone with high moral standards I am the wrong guy.
I am not against prostitution and I also don't judge or condemn men who love to live the sex tourism lifestyle. Nevertheless, I have to admit that it was somehow depressing to see all those underage girls offering their bodies to men who were four times older. And please don't tell me that they are all over 18. I know that you can buy a fake ID for 5 dollars on every street corner.
Anyway, I ended my prostitute sightseeing tour after 30 minutes. Walking through these desolate streets with the bright red lights for a couple of minutes was enough for me. I had planned to spend more time staring at half-naked girls, so it was still early and I didn't want to go home. I had never been to a club in Bangkok, so I decided to ask a few people if they can share some good party locations with me.
How could I know that such an innocent question would lead to my first Asian threesome experience?
After a few unhelpful answers from different kind of people I asked two Asian women if they knew a good place to party. The girls I approached were two English teachers from Taiwan, both over 30 and best friends. After a few minutes of pleasant conversation I suddenly suggested that we could make a private party in their hotel room.
I really can't remember why the heck I said that, but they agreed. It was one of the best suggestions I've ever made.
They were both around 35 years old and had extremely beautiful bodies for their age. It is absolutely true that Asian women don't age as fast as Western girls.
Let me call them the one with the short hair and the one with the long hair, so that you can distinguish them during the story.
On the way to their hotel we went to a supermarket to get some wine.
Alcohol + private party in their hotel = Sebastian was about to get lucky
While we were walking to the hotel I already thought about how I could have sex with both of them. I wanted to have an Asian threesome and I was convinced to accomplish that goal. I mean, they were best friends, so I thought there shouldn't be a problem with sharing a man. Maybe I was a little bit too enthusiastic.
How to Get an Asian Threesome Without Paying
When we arrived in their hotel room we talked about traveling, about life, about love and about sexual adventures. We drank wine;  a lot of wine. Okay, I have to be honest. Even if they were Asians they drank more than I did. They seemed to be very hard-drinking, which I wasn't. I was already afraid that I couldn't get it up.
While we were talking they both came closer to me. The girl with the short hair came from the left and the girl with the long hair came from the right.
After a while they both started to touch my leg and to move upwards to my dick.  I knew that they were down to fuck. 
I started to kiss one of the girls and then I started to kiss the other one. It got more and more intense. I touched their breasts, I caressed their asses and they both started to massage my dick while it was still protected by my pants. I was 100% sure to have my first Asian threesome sex of my life.
I was 100% wrong…
The situation between the three of us got more and more sexual. Only when I started to undress one of the two Taiwanese beauties one of them suddenly jumped up, grabbed her friend's hand and pulled her into the bathroom.
I only understood "quak quak ching chang chong" but it sounded quite brutal.
These incomprehensible words scared me and my penis. When they both came out they acted as if nothing happened and started to kiss and touch me again. I was totally confused. Every time I started to make out with them at the same time or to initiate something between both of them, they blocked me.
We kissed, touched, drank wine, kissed, touched, drank wine and drank more wine. I was drunk, the girl with the long hair was a little bit drunk and the girl with the short hair was totally wasted. The moment the girl with the short hair toddled to the toilet I grabbed the one with the long hair and made out with her as if I wanted to eat her alive.
She started to put her hand in my pants and to rub my dick. I put my hand under her dress, removed her panties, threw it under the bed and started to finger her heavily. She moaned loudly and was about to pull my pants down when her short haired friend came out of the bathroom again.
I thought to myself: "Even if I can't have an Asian threesome experience I can definitely bang the one without underwear."
Asian Threesome or Hospital?
I maybe failed in having sex with both Taiwanese women at the same time but I wanted to do everything I possibly could to have sex with the one with the longer hair. In the meanwhile the one with the short hair got more and more drunk. I think she was pissed that I chose her friend and now she wanted to disturb our sexual interaction. She already destroyed my first Asian threesome and now she wanted to destroy my plan to come inside of her best friend.
Her naughty friend, who I just fingered like there was no tomorrow, was wet and horny and obviously pissed at her friend. First they argued and then they had a fight on their bed. I think the girl with the long hair tried to burry her friend under the blanket.
At first I thought: "wow, that's hot." After a few minutes of screaming and pulling I thought: "wow, I have to stop this shit."
I tried to end the fight by pulling them away from each other. It worked. The short-haired girl went in the bathroom while screaming something I didn't understand. As soon as she was gone, my naughty girl lifted her skirt and invited me to lick her.
I kneed in front of her while she sat on the chair. Her pussy tasted so fucking good and she was more than ready to have sex. 
I just wanted to pull my pants down when the wasted sex destroyer came back from the toilet. We stopped immediately and pretended as if nothing happened between us. The wasted Asian chick looked at us without moving one muscle in her face, went towards the bed, fell down and stopped moving.
Happy Ending in the Shower
She was totally knocked out. A quick look at my watch told me that it was 6 o'clock in the morning. I was so freaking tiered, but I was also horny as hell. The girl with the short hair still didn't move. I took the hand of my middle-aged Asian beauty, took her to the bathroom and started to kiss her. I put my fingers in her pussy and I felt that she was totally wet.
She pulled down my pants and started to suck my dick till it was hard, which took about 5 seconds. I was really, really horny. After we both got undressed she went into the bathtub and stuck her ass towards me. I took a condom out of my pocket, put it on and entered her from behind while she was leaning on the wall with her hands around the shower head. I was too horny to change position and I didn't want to risk making too much noise, so that her friend would wake up.
Okay,I want to be honest. We both moaned and screamed so loud that the whole hotel must have heard us.
When she came, she bit my hand so strong that I had an imprint for the whole week. My orgasm was so intense that I nearly squashed her on the wall.
After we had sex we were both very tired but also very happy. Even if I had no Asian threesome experience I had the most fucked up one night stand in my life. I left the hotel with a big smile on my face, even though I knew that we would never see each other again…
Summary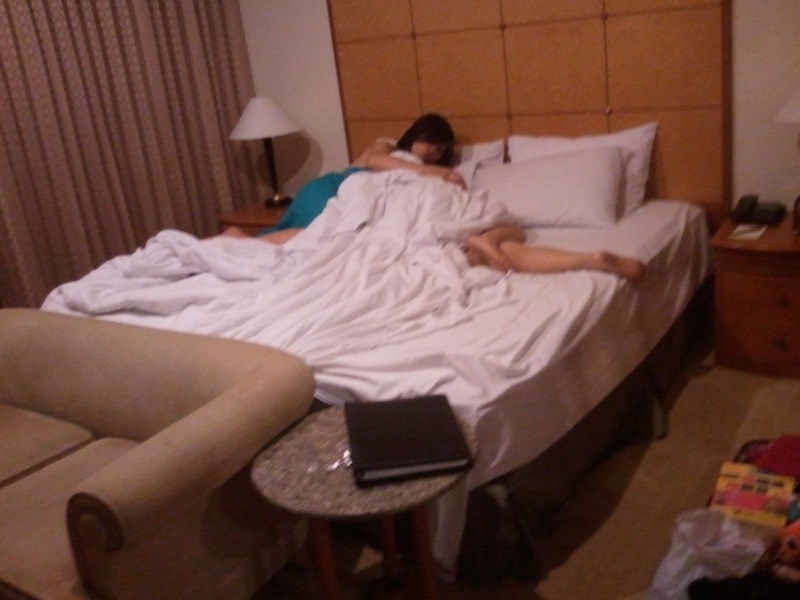 Article Name
Asian Threesome Fail in Bangkok
Description
Have you ever had an Asian threesome? Have you ever had sex with two hot Asian women at the same time? I had this experience. Well…almost.
Author
Publisher Name
Publisher Logo